Springvossen hosts Jan Robert Leegte to talk about No Content on AmsterdamFM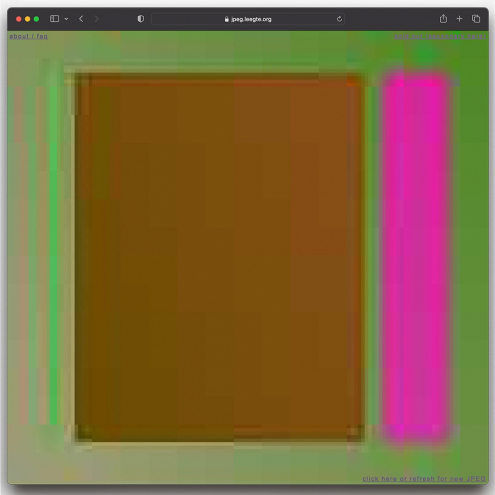 Springvossen hosts Jan Robert Leegte to talk about No Content on AmsterdamFM
Every monday morning, AmsterdamFM hosts Springvossen, a radio show in which Robert van Altena invites a special guest to have a conversation. Mostly there's one artwork at its centerpiece, from which the conversation takes off. On the 6th of June, Jan Robert Leegte was invited to discuss his exhibition No Content: Contemplations on Software, which is currently on show in our gallery.
The conversations for Springvossen are held in Dutch. Click here if you'd like to listen to this interesting conversation between Jan Robert Leegte and Robert van Altena.
During the broadcast, they discuss Jan Robert Leegte's website, https://jpeg.leegte.org/, which Leegte build to generate compressed JPEG images.
Publication date: 7 Jun '23