MARINUS BOEZEM WILL BRING THE WIND TO CHURCH, AS THIS YEARS' 'CHURCH WARDEN', FOR GROTE KERK VEERE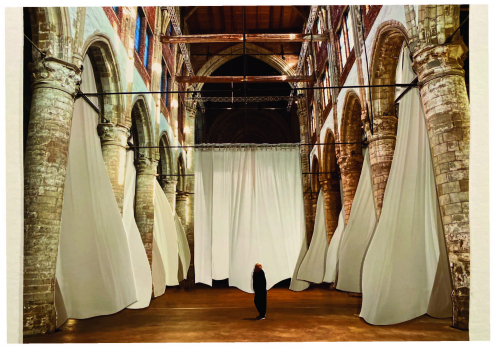 MARINUS BOEZEM WILL BRING THE WIND TO CHURCH, AS THIS YEARS' 'CHURCH WARDEN', FOR GROTE KERK VEERE
Every year the Grote Kerk in the Dutch town Veere opens a part of its church architecture, called Het Middenschip, to one artist, so that they can solely contribute to the space with full artistic freedom. This year it's none other than Marinus Boezem himself, somewhat unsurprisingly, as Boezem has been working a lot in and around churches throughout his career. The Grote Kerk was definitely on Boezem's list of desired places to work with, and so we're very happy to announce and experience the ways in which Boezem fulfilled his time as "church warden". He'll be bringing in a new work to this striking architecture, filled with cultural heritage, that throughout the years endured, literal and symbolically, heavy storms.
The exhibition will take place from the 16th of July till the 29th of October, 2023. For his church wardenship, Boezem decided to bring the wind inside the church, with an installation that softens the architecture of the church. The church curtains will artificially breeze in the wind, through rustling, oscillating, ventilators, resulting in a transcendental atmosphere. In the heart of the installation, volunteers will take place at a long narrow table with a white linen cloth, to embroider the Grote Kerk's unfinished tower onto the tablecloth. As the exhibition keeps going, the renowned church tower that was never physically built, will gradually start taking shape.
The project of "church warden" is in co-production with CBK Zeeland and made possible, with big gratitude to, the municipality of Veere, the Mondriaan Fund and Familyfund Hurgronje.

To read more and reserve your tickets online, click here
(website is predominantly in Dutch)

Image source from the announcement on https://grotekerkveere.nl/. Artist impression and sketch by his daughter, Natasja Boezem.
Opening hours Grote Kerk, Veere
The Grote Kerk's opening times vary depending on the time of year.
The church will open its doors more frequently during the summer holidays, ranging from the 17th of July till the 3rd of September, every tue–sunday from 11–17.00hrs
From the 4th of September till the 1st of October, the opening times change to thurs–sunday from 11–17.00hrs
From the 2nd to the 22nd of October, the church will only be open every saturday and sunday from 11–17.00hrs
And fnally, during the autumn break, from the 23rd to the 29th of October, the church will be open from thurs–sunday again, 11–17.00hrs
Publication date: 26 May '23