Short film by Jen Liu on Sunset Blvd. billboard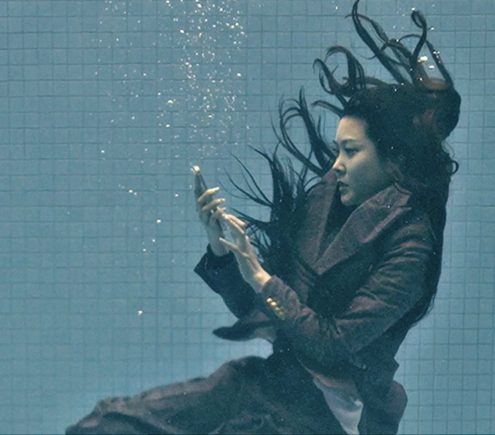 Short film by Jen Liu on Sunset Blvd. billboard
The city of West Hollywood has announced the worldwide debuts of the next exhibitions in its Moving Image Media Art program. "The Land at the Bottom of the Sea," a short film from artist Jen Liu, will air at the top of the hour, and 30-minutes past every hour, among other short films.
MIMA is an ongoing exhibition series of moving image media artworks on multiple digital billboards at various locations along Sunset Boulevard. The goals of the MIMA program are to foster cultural equity, expand accessibility, inspire communication and enhance the human experience of the Sunset Strip.
"The Land at the Bottom of the Sea" explores the complete historical systematic erasure of female labor activists in the Chinese Industrial Complex. Jen Liu asked AI software to imagine what happened when these women were disappeared or "liquidated, socially, politically, financially?" With the absence of any existential evidence to inform an answer, "The Land at the Bottom of the Sea" is a combination of the nonsensical AI software response, enhanced by Liu's stunning and saturated conjecture.
Jen Liu is a New York-based visual artist working in video, painting, dance performance and biomaterial, on diasporic Asian identities, postcolonial economies, speculative feminism and the re-motivating of archival artifacts. She is a recipient of the Creative Capital Grant, the LACMA Art + Technology Lab grant, the Guggenheim Fellowship in Film/Video, the Art Award from Cornell Tech, the NYSCA/NYFA Fellowship in Digital/Electronic Art, the Pollock-Krasner Award and is a 2022 recipient of the Hewlett 50 Arts Commission. She has presented work at MoMA, The Whitney Museum and The New Museum, New York; Royal Academy and ICA in London; the Aspen Museum of Art; Henry Art Gallery, Seattle; and Shanghai Biennale, China; and the Singapore Biennial.
The Moving Image Media Art Program is a city of West Hollywood exhibition series administered by the city's arts division, as part of its Art on the Outside Program and is presented with the Sunset Arts and Advertising Program. MIMA offers artists the opportunity, and the funding, to create immediate and ambitious works of art that engage with the unique visual landscape of the Sunset Strip.
MIMA enables artists to occupy, contest, and play with the definition and uses of public space and manifest moments of connection and spectacle. Artists exhibited in the program are selected from the MIMA Prequalified List, a rolling, open-call for moving image media artists, curators and non-profit arts organizations, with applications reviewed bi-annually by the city of West Hollywood.
Publication date: 26 May '23