DENNIS RUDOLPH IN MUSEUM JENA FOR FULLDOME FESTIVAL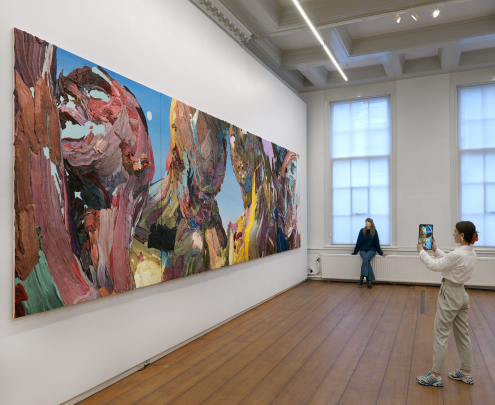 DENNIS RUDOLPH IN MUSEUM JENA FOR FULLDOME FESTIVAL
VERNISSAGE: 12th of MAY, 20.30 HRS
Dennis Rudolph's work Götterfries (Atlas Shrugged) (2023) will be on display at the Planetarium in Jena during the Fulldome festival, that runs from the 11th of May until the 14th of May 2023. The vernissage takes place on friday evening, the 12th of May. Here Rudolph will show his work in the virtual gallery of the Dome.
The planetarium offers a fulldome experience, meaning that there will be a dome-based video display environment, in which Rudolphs AR-app that is connected to his eight metre long oil painting, can be experienced in real life. When using the AR-app, four figures from Greek mythology: Hermes, Europa, Atlas and Gaia (Rudolph's Artificial Gods), appear out of the thick brush strokes on the screens of the visitor's phones. The Gods perform a choreography to music composed by Dietrich Brüggemann. In his artwork Rudolph is appealing to all our senses and creating an immersive multi-sensory experience, combining oil paintings, augmented reality and music resulting in a Wagner-meets-Hollywood Gesamtkunstwerk.
Next to that, for the vernissage, Rudolph will be joined by KYMAT, who's going to demonstrate making music with the electromagnetic impulses from plants.
Expect a unique exhibition that combines painting, VR, fulldome and sound.
A FullDome Festival KOMBI-ticket will grant you access to the whole program on May 12, 2023, including the concert with KYMAT and Dennis Rudolph in the evening, as well as the afterparty with Sailé (Vision Sailenz). Celebrate together with the international fulldome scene! KOMBI-ticket: €25,-
FullDome Festival: Spatial Feeling
May 11–14, 2023
Zeiss-Planetarium Jena
Am Planetarium 5
D-07743 Jena
Opening hours
Tuesday till Friday 09.00–20.00
Saturday 10.00–20.15
Sunday 10.00–18.00
Tel.: +49 (0) 36 41 – 88 54 88
Fax: +49 (0) 36 41 – 88 54 20
E-Mail: order@planetarium-jena.de

FullDome Festival Tickets and more info here
Kindly supported by Spiegelarche & JenaKultur.
Publication date: 11 May '23