LEÓN AND COÇIÑA'S THE WOLF HOUSE NOW SHOWING ON MUBI AND REVIEWS IN FILMKRANT AND HET PAROOL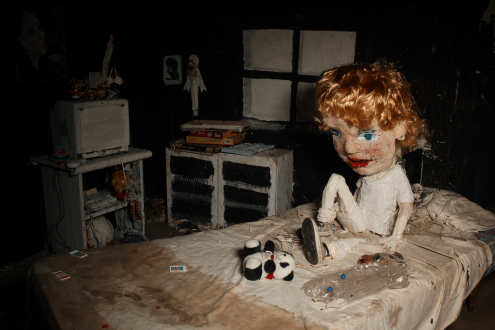 LEÓN AND COÇIÑA'S THE WOLF HOUSE NOW SHOWING ON MUBI AND REVIEWS IN FILMKRANT AND HET PAROOL
Now that Mubi is showing La Casa Lobo again, across more countries and there to stay, praise and interest has been sparked once more in Cristóbal León and Joaquín Cociña's adult stop-motion animated film from 2018. We're happy to see new reviews popping up in for example Het Parool and Filmkrant. Especially since the making of the film was consuming in both production and time. As each second of footage was built from twelve shots, León and Cociña spent a total of five years creating their 73-minute visually stunning and horrifying film.?
In the movie, Maria seeks shelter in a mansion after escaping from a religious colony in Chile. She's taken in by two pigs, its only inhabitants. The universe of the house reacts to her feelings. The animals slowly morph into humans and the house into a dark, menacing world. The psychological portent is mysterious and dense, while its imaginative use of puppetry and bold animated design creates a world entirely its own, relatively rarely seen in contemporary cinema.
The historical background of the film is inspired by Colonia Dignidad, the cult-like Chilean enclave that provided shelter to Nazi war criminals. La Casa Lobo takes the age-old story of the Three Little Pigs and filters it through the warped mind of a profoundly traumatized little girl until it no longer resembles a fable so much.
Back in 2018, La Casa Lobo or The Wolf House, was their first debut feature film. Ari Aster (film director of Hereditary and Midsommar) commented: "I remembered having seen this brilliant Chilean stop-motion monstrosity that was really one of the most amazing things that I had ever seen... There's nothing else that's ever been made that's like THE WOLF HOUSE."
It seems that Aster didn't want to leave it just there, as León and Cociña contributed to Aster's new film titled Beau is Afraid, which premiered internationally a couple of weeks ago. They worked on the art direction of a sequence within the film, where the protagonist falls into an animated reality.
You could call us biased, but it's a must see!
GO TO REVIEW:
Publication date: 11 May '23