Marinus Boezem's Degli Uccelli in de Oosterk, Middelburg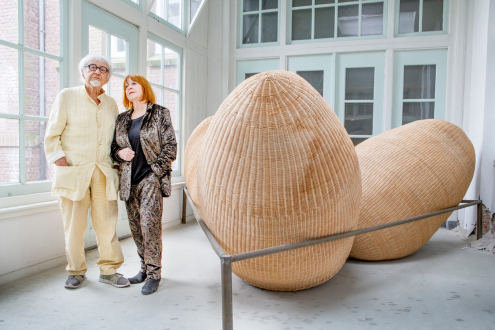 Marinus Boezem's Degli Uccelli in de Oosterk, Middelburg
Marinus Boezem's artwork Degli Uccelli will be on display at the Oostkerk during the Mostly Modern Festival in Middelburg (Zeeland, NL), that runs from 20-30 April 2023.
The monumental artwork that takes up the space of six by five meters, will take it's place in the centre of the Oostkerk, a baroque style church.
In Italian, the title Degli Uccelli means 'About the birds'.
For this artwork, artist Marinus Boezem created three eggs by using a reed weaving technique he learned from an old craftsman.
The weaving is a meditative process. The movement refers to the transformation of the yet to be flying birds, that are still in the eggs.
Earlier versions of the work were seen in Vleeshal Middelburg (1989) and Chappelle des Carmélites in Toulouse (1989).
The context of this particular presentation, the baroque church that used to have a religious function, gives an extra dimension to the artwork by referring to the holy trinity.

On 19, 20, 21, 26, 27, 28 April there will be tours in the church, from 11.00 - 17.00 hrs.
Starting hours (be there 10 minutes in advance):
11.15;
12.30;
14.15;
15.30 hrs.

Special tour-price in april: €5,00.

Image:
Degli Uccelli, Marinus Boezem, (1989)
Photography by: Pauline Niks
Publication date: 19 Apr '23