Dennis Rudolph's video Das Portal am Ende der Welt will be screened at ROAM Space, Berlin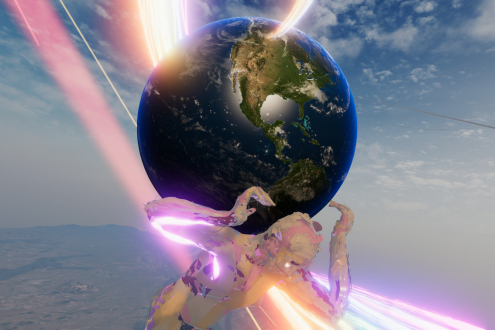 Dennis Rudolph's video Das Portal am Ende der Welt will be screened at ROAM Space, Berlin
Dennis Rudolph's video Das Portal am Ende der Welt will be screened at ROAM Space in Berlin on Saturday February 25th. ROAM is a Berlin-Kreuzberg based project space with a focus on art and cultural exchange with East Europe.
More info here.
DAS PORTAL At The End Of The World by Dennis Rudolph takes us to the "other side" of his project Das Portal in California City in the Mojave Desert. This other side is the Virtual Reality. The artist recreated the landscape of the city in the game engine Unity using Google height maps and satellite photos.
Using a VR 3D painting software which tracks his artistic hand and allows him to transport his gesture into the realm of the digital, the artist started painting on top of the virtual recreation of this failed city. The digital paintings take their inspiration from the ceiling fresco Triumph of Divine Providence by Cortona - a major baroque art work.
Originally Das Portal was an update of Rodins Gates to Hell which Rudolph completed in the medium of Augmented Reality in 2018. It is marking the end of the western world. Rudolph painted Das Portal in a virtual reality headset using a 3D painting software. He placed the final work with a GPS based Augmented Reality app for smart phones on the designated location in California City. The work is thus there and not-there at the same time.
Publication date: 22 Feb '23