Film award for Jen Liu's Electropore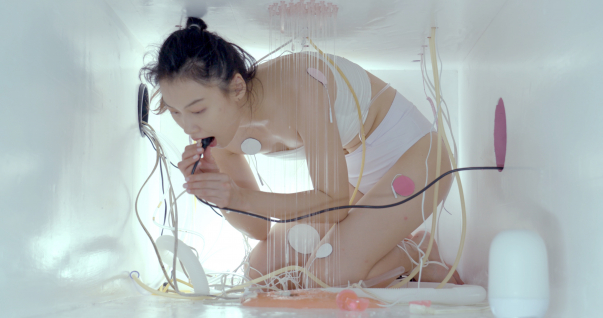 Film award for Jen Liu's Electropore
Jen Liu's film Electropore (2021-22) is awarded with the "Expanded Media in Space" (Expanded Media im Raum) prize during the Stuttgarter Filmwinter closing gala.

In Liu's Electropore electricity is generated by the labor of Asian and Black femmes, each trapped inside confined objects and shrunken worlds. They have no biography: they are pure productivity for the sake of cheap consumer goods, driven by an acid house beat. They're fed synthetic pink bubble jelly and junk food. They form a perfect synthetic loop of meaningless labor in a world given to calamity and isolation. Various texts - including but not limited to Fred Ho's Warrior Sisters (2000) and firsthand accounts of electroshock therapy and political imprisonment - are edited together to speak to productivity in the ruins: the reality of today's migrant labor, industrial and data labor outsourced to the global south in the 21st century.
Read more information about the film prize (DE) here.

Images:
Artwork: (Screenshots of) Electropore, Jen Liu, (2021-22)
Publication date: 28 Jan '23