Rafaël Rozendaal Solo Exhibition Screen Time at Takuro Someya Contemporary Art, Tokyo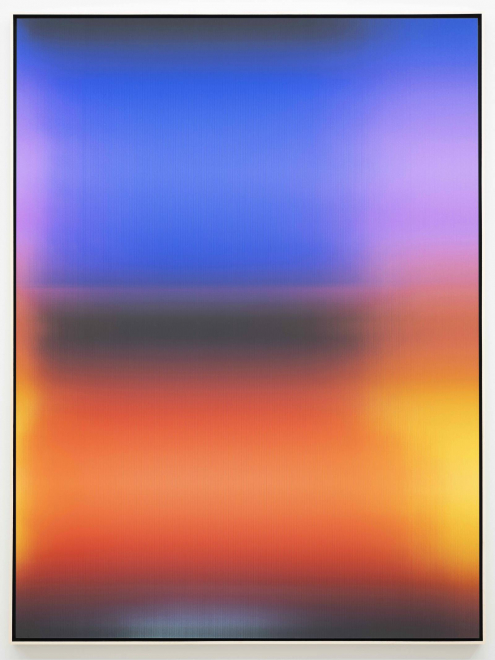 Rafaël Rozendaal Solo Exhibition Screen Time at Takuro Someya Contemporary Art, Tokyo
On the 26th of November, Rafaël Rozendaal's solo exhibition Screen Time will open at Takuro Someya Contemporary Art in Tokyo!
Screen Time comprises two ongoing series of works: Into Time, a series of lenticular paintings, and Abstract Browsing, a series of jacquard tapestries. This exhibition marks the first time that new works in these series have been presented at TSCA since Somewhere (2016) and Convenient (2017), respectively.
As hinted by the title of this exhibition, both Into Time and Abstract Browsing are explorations into the nature of time in its various forms.
Rozendaal has remarked in interviews and writings that the "landscapes" we most often encounter in our contemporary society are seen through the "window" of a screen on our electronic devices rather than an actual window in space. In the context of the history of humans and landscapes, we have shifted from the time when people looked out into the world through physical windows to the time when families gathered around the television set to watch moving images. And now, in this present moment, we have grown accustomed to spending our time on the individual screens of our personal devices, consuming our favorite content when and where we please. If one were to name these different periods on the basis of their visual cultures, perhaps "screen time" would be a fitting one for this most recent iteration. As the title of this exhibition, Screen Time evokes the expanse of time in which the continuum of visual culture is developing.

More information about exhibition Screen Time here.

Images:
1. Into Time 22 06 04, Rafaël Rozendaal, 2022
2. Abstract Browsing 22 03 01 (LA Times), Rafaël Rozendaal, 2022
Screentime | Takuro Someya Contemporary Art, Tokyo
Opening 26 Nov '22 - 24 Dec '22
Publication date: 26 Nov '22