Dennis Rudolph in Group Show GENDER BENDER TIME TRAVELLER by Geisted in Berlin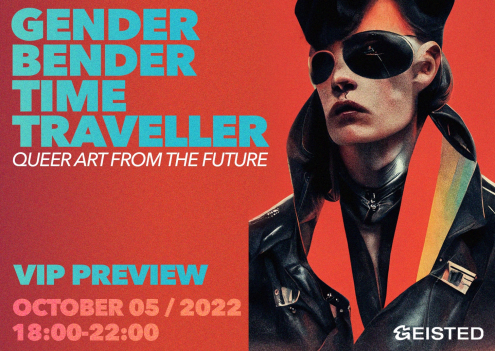 Dennis Rudolph in Group Show GENDER BENDER TIME TRAVELLER by Geisted in Berlin
GENDER BENDER TIME TRAVELLER explores how a new era of digitality is reshaping multiple facets of identity. The exhibition will showcase the work of twenty-one acclaimed international artists who have mastered the latest digital media tools. Their diverse works offer a uniquely relevant perspective on the technology-fueled evolution of sexuality, gender, race and culture.
The digital world is evolving at unprecedented speed, with increasingly sophisticated digital tools allowing us to create parallel realities. Virtual gaming, image alteration, Web3, artificial intelligence, and the coming metaverse are becoming more woven into the fabric of our lives, creating a new realm where we can alter and reimagine ourselves. Self-styled avatars interact with each other, creating a new layer of social reality where binaries and structures can be reinvented.
GENDER BENDER TIME TRAVELLER is a journey along the boundary between universe and metaverse, where a diverse group of world renowned artists challenges paradigms around gender, sexuality, race and culture. The collection of standout works push multiple forms of cutting-edge media to their limits, redefining digital art for the next generation.
Twenty-one of today's most exciting artistic voices answer current questions around identity through the spectacular prism of advanced digital tools. In the process, they collapse the boundaries between media, art and technology, offering new ways to redefine the human experience.
GENDER BENDER TIME TRAVELLER is the inaugural project of GEISTED, a 360 platform for digital art and WEB3 applications. Through its curated NFT marketplace and IRL exhibitions and events, Geisted aims to become a key figure in the conversation around the future of digital content. Throughout the month-long exhibition, panels and talks with artists and key industry figures will be held in the gallery space.
Dennis Rudolph is participating with his Orpheus (1. Gesang), 2020, 140x200cm oil on canvas + AR App.
PARTICIPATING ARTISTS:
Stacie Ant | Serwah Attafuah | Bob Bottle | Danielle Brathwaite-Shirley | Face3D - Chong Yan Chuah | Amir Fattal | Frederik Heyman | Andrew Thomas Huang | Huntrezz Janos | Sasha Katz | Bahareh Khoshooee | Jabu Nadia Newman | OneFallArt | Dennis Rudolph | Nicole Ruggiero and Sam Clover | Vincent Schwenk | Georgie Roxby Smith | Jam Sutton | Miyö Van Stenis | Mathias Vef | Xemantic
Read more here.
Publication date: 6 Oct '22