Joan Heemskerk part of 'Waterworks' at V2 in Rotterdam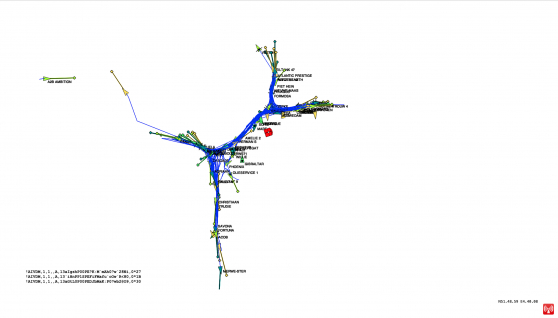 Joan Heemskerk part of 'Waterworks' at V2 in Rotterdam
Joan Heemskerk shows new work in the group exhibition WATERWORKS at V2_ in Rotterdam.
WATERWORKS is an exhibition exploring the cultural role and meaning of water. It comprises several technology-based artworks that look at some of the most pressing global challenges of our time, brought about by the new water reality.
A2B: SORRY WE MISSED YOU
For centuries, cartography has made the surface of the globe visible. This has laid a foundation for our world view and globalisation. The description of the physical condition of the world and the boundaries between land and water are based on movements in time: on ancient routes and traces left by travellers. Today, this 'global grid' is a virtual network, filled with data and coordinates obtained through tracking planes, cars, people (mobile phones) and ships. We have access to the data coordinates of vessels on websites such as www.marinetraffic.com. Through AIS (Automatic Identification System) the movements of ships can be followed all over the world. When you look at this data, you see an abstract representation of the distribution of water and land and you can almost see the outline of the underlying map. Where there is a ship there is water and where there is water there is a ship.
Whereas in the past expeditions followed routes to colonies to trade spices and goods and colonisation was part of our history, today data tracking is the equivalent of colonisation. Large digital companies such as Amazon, eBay, Facebook, Google and Twitter can be seen as the new digital imperialists. Many computer terms 'accidentally' refer to nautical terms. The transport of our goods ordered online, which fill the ships we see on the nautical chart, are often reduced to an A to B. With the hypothesis that the underlying old cartographic map can be changed by letting tracking data determine the geography.
AUQUAY visualises globalisation, from the digital coastline between land and water, through the signals that people and shipping pass on to the global positioning system of the Internet. AUQUAY refers to okay, okay: - All right, ready. In French: 'Au quay', referring to the cargo brought ashore.
A DIY computer with a software-defined radio antenna locally scans AIS & GPS signals from the ether to create a new visualisation of these measured radio waves. This raw-data noise is converted via software into understandable code for geo-visualisation. It is a method to monitor the transport of ships in the range of this local AIS/GPS receiver.
The A2B recordings are not made on the water but on a stationary position on land as 24h time-lapse ship landscapes. Does this create a new virtual border between land and water? A new map is created, an interpretation of the local area, an abstract form of a landscape interpretation.
Website: https://auquay.com/a2b
Image: Joan Heemskerk, 2B: SORRY WE MISSED YOU (2022)
Publication date: 23 Sep '22