Kévin Bray solo exhibition at Trauma Bar und Kino Berlin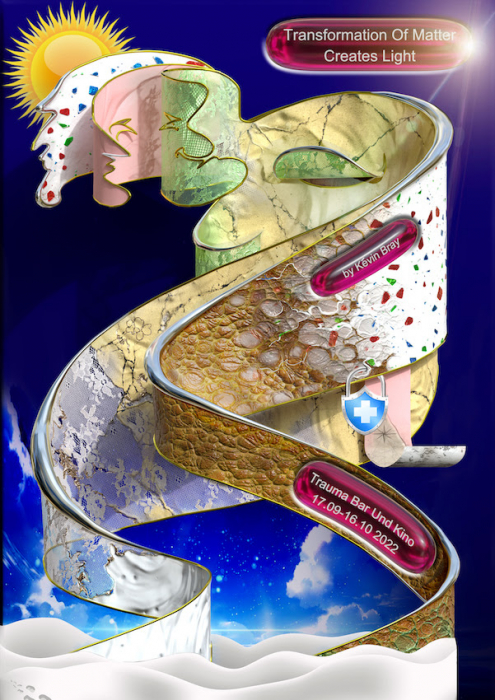 Kévin Bray solo exhibition at Trauma Bar und Kino Berlin
Tomorrow Kévin Bray's solo exhibition The Transformation of Matter Creates Light will open at Trauma Bar und Kino Berlin.
The Transformation of Matter Creates Light is Kévin Bray's most comprehensive immersive installation to date.
The exhibition will showcase the interdisciplinary artist's latest work—an automated choreography of moving screens that produce large light sculptures in Trauma Bar und Kino's main space. Exhibited here for the first time, Bray's installation invites us to experience the visual mapping and exploration of technically enhanced human transformations. In this work, the artist and video maker employs a technique he developed as part of a research residency earlier this year in AlUla, Saudi Arabia, which uses different layers to assemble his light sculptures.

Bray's works and installations are distinguished through multimedia approaches, particularly the technique of projection / video mapping. It uses a projector to cast light on arbitrarily structured surfaces in a tailored way, whereby video projections seamlessly layer themselves like a new skin to interact mutually on top of our physical reality. In a universe that keeps creating infinitely more complex structures, from atoms and molecules to planets and living creatures, Kevin Bray's exhibition at Trauma Bar und Kino highlights and celebrates the urge to change and transform ourselves to adapt to our inner and outer surroundings. Alongside this installation will be displayed a site-specific mapping which takes viewers through bright, shape-shifting landscapes and his video Morpher that acts as the spine and living archive of his artistic practice.
The Transformation of Matter Creates Light | Trauma Bar und Kino Berlin.
17 Sept '22 – 16 Oct '22
Opening: 17 Sept '22, 20.00 –03.00 hrs
Music: DJ Lag, Tati Au Miel, Nunguja
Publication date: 17 Sep '22