New NFT's by Harm van den Dorpel: Markov's Dream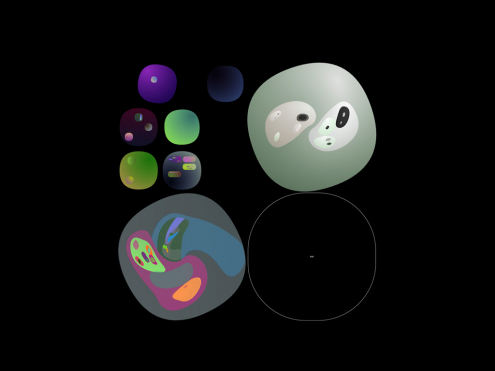 New NFT's by Harm van den Dorpel: Markov's Dream
Harm van den Dorpel's Markov's Dream consists of 32 generative unique Ethereum tokenized digital artworks (ERC721), which are gradually released over time. Each unique token is animated, colored and nested, as a 'setting' of a computer program created by the artist. The first 20 tokens are consigned to Galerie Rüdiger Schöttle Munich and Upstream Gallery Amsterdam. The last 12 tokens will be offered by Folia.
Markov's Dream is a response to the phenomenon of computers becoming platforms for humans who become tools in the profit sequestration chain. In effort to make the UX more metaphorically connected with human bodies, which have no hard edges, software like MacOS is to some extent rounded and 'organicised'. Inspired by these shapes, Markov's Dream shows impure circles or rounded squares in a dream space.
The animated artworks are indefinitely mutating and evolving, what challenges us to look differently at art as a medium. Sometimes parameters of the animations are fixed, sometimes they are fed with random numbers. As parameters are informed by these undetermined random numbers (comparable to throwing a die), the chance the generative process will repeat an image is close to zero. It will forever bring about new unpredictable compositions. This is in strong contrast with, for example, video art, which often depends on a predefined order of appearance, a beginning, and an end.
Read more about Markov's Dream and the availability of the tokens here
Publication date: 13 Apr '22