Jen Liu and Aleksandra Domanovic at LACMA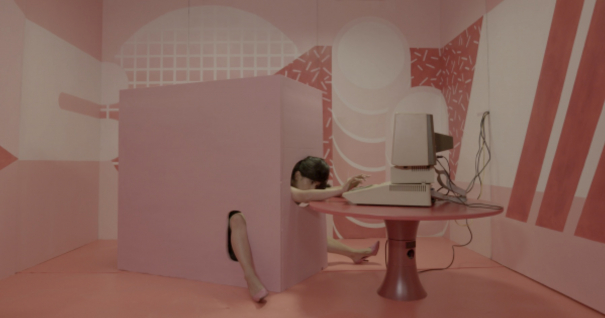 Jen Liu and Aleksandra Domanovic at LACMA
Garage Exchange: Aleksandra Domanovic and Jen Liu Explore Viral Transmissions and Systems of Information
For the 18th iteration of the Garage Exchange series, the MAK Center for Art and Architecture in collaboration with LACMA's Art + Technology Lab will be presenting new work by Aleksandra Domanovic and Jen Liu. As the world emerges from the COVID-19 pandemic and recent political and environmental upheavals, Liu and Domanovic examine parallels between viral transmission and closed systems of information. This exhibition is the culmination of an ongoing conversation and convergence of ideas in their practices on circularity in material forms.
In Pink Slime Caesar Shift: Electropore (2021), Jen Liu continues to explore how insurrectionist ideas might be transmitted and received, using genetic engineering as a narrative vehicle to look at how industrial labor, global environmental racism, and myths of techno-optimism work in tandem. In this piece, Black and Asian womxn form an electrical closed loop: Their bodies are used to generate electricity, while they also consume it (with multiple cheap gadgets). What each performer does affects the others, but each is also deeply isolated, and the whole system operates in an infinite loop. This work responds to Fred Ho and Ann T. Green's Warrior Sisters (2000), a jazz opera full of hope about feminist Black and Asian coalition in a speculative sci-fi realm. Electropore "electroshocks" Warrior Sisters' original musical score while asking: What might a real shared base of future coalition be, if not the biopolitics of digital exploitation?
More information can be found here.
Publication date: 9 Dec '21