Harm van den Dorpel in Conversation with STUDIO BONN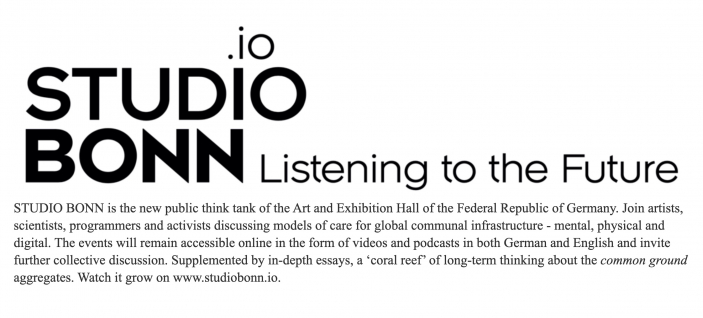 Harm van den Dorpel in Conversation with STUDIO BONN
STUDIO BONN. Listening to the Future
Exchange Values
TO WHOM DOES ART BELONG?
Saturday, 20 November 2021, 7.00 pm
Part of the symposium The Public Role of Private Collections
What connects Renaissance princely portraits with digital art and NFTs? How do forms of collecting differ in different forms of society? How do decentralized collectives challenge museums, and what new concepts of art do they make conceivable? Is the accumulation of art treasures still in keeping with the times? Studio Bonn moderator Kolja Reichert discusses these questions with Eike Schmidt, director of the Uffizi in Florence, the artist Harm van den Dorpel and Chus Martínez, curator and director of the Art Institute at the FHNW Academy of Art and Design, Basel.
As director of the Uffizi Galleries in Florence, Eike Schmidt is in charge of the very origins of private art collecting. During the NFT boom in spring 2021, the Uffizi sold a digital copy of Michelangelo's Tondo Doni. In an interview with the business newspaper Handelsblatt, Schmidt recently commented that 'very soon the far more interesting dialogues will no longer take place in museums or galleries, but in the metaverse.'
Harm van den Dorpel has been dealing with certificates of ownership for digital art for years. He recently sold off all the works of the Left Gallery, which he had founded, thereby securing some unexpected income for himself and his fellow artists. He is currently advising a group of Dutch collectors, whose collections date back to the 17th century, on the possibilities of blockchain-based DAOs (Decentralised Autonomous Organisations).
Chus Martínez headed the curatorial department of Documenta 13 and was chief curator at MACBA Barcelona and the Museo del Barrio, New York. As an author and curator, i.a. of the Thyssen-Bornemisza Art Contemporary's Ocean Space, she forges productive connections between art world players, from artists to academics to collectors. As director of the Institute of Art Gender Nature at the FHNW in Basel, Martínez guides the next generation of artists in their quest for the theoretical and practical tools to navigate a radically changing art world.
TO WHOM DOES ART BELONG? is the second iteration of Studio Bonn in the series devoted to the subject of 'Exchange Values', which began in July with Crypto-Capitalism with Hito Steyerl, Joseph Vogl and Ville Haimala. With Exchange Values, Studio Bonn asks what is of value in society? How much is it worth and why? And how have the dynamics of value formation changed? The panel takes a closer look at the opportunities of blockchain technology for new models of participation.
Read more here.
Publication date: 18 Nov '21