Work Marinus Boezem in '33 Seconds Art' broadcast at NPO2 Extra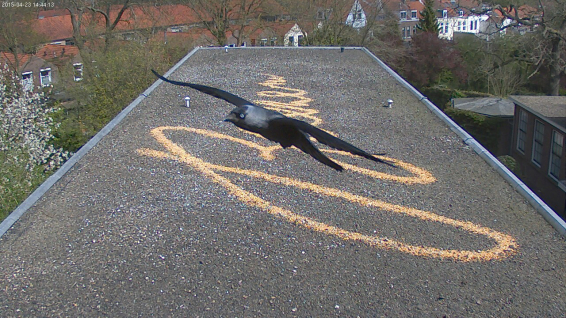 Work Marinus Boezem in '33 Seconds Art' broadcast at NPO2 Extra
A museum visitor spends an average of 33 seconds on each work of art he views. For '33 Seconds Art' artists have made a work for exactly this span of time. A movie, short clip, 'making of' or 'vanishing of'. The artists were completely free in what they made. The viewer gets 33 seconds of breathing space in a hectic world.
Artists have signed their works since the Renaissance, not only to gain recognition but also to give the work and official status. In this installation Marinus Boezem has strewn birdseed in the form of his signature on the flat roof of his studio.
The image is ironic and fleeting. It is a commentary on the position of the artist, who can achieve celebrity but can also be lost on the mists of time. Boezem's signature is perishable. It blurs as the birds eat the seed and carry it awat on their flight into infinity. In fact the birds propagate his work in the sense that they transform the material - the seed - into flying and total freedom.
Appearing and disappearing, as is the case with signature, are recurring motifs in Boezem's work. They complement and critique one another, just as nature and culture have a direct relationship with each other.
Marinus Boezem
'The vanishing of the artist'
2015
(original time 14 minutes 27 seconds)
See the full video here
Publication date: 7 Dec '21