Artist duo JODI receive 20th Art+Technology Prize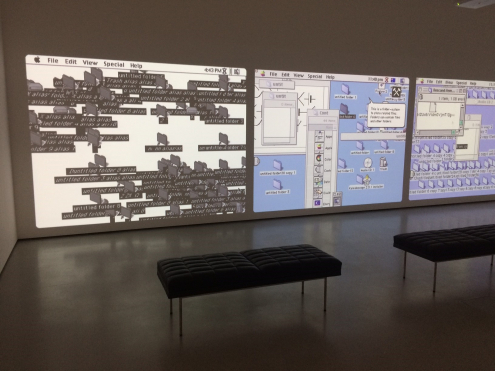 Artist duo JODI receive 20th Art+Technology Prize
Joan Heemskerk and Dirk Paesmans, better known as JODI, are this year's winners of the Witteveen+Bos Art+Technology Award. This oeuvre prize is awarded to a visual artist whose work combines the disciplines of art and technology in a unique and commendable manner. The prize will be awarded for the final time in November 2021.
Wouter Bijman, managing director of Witteveen+Bos: 'The Art+Technology Award was established in 2001 as a way to express our appreciation for the way artists inspire us. That inspiration comes from the fact that artists create totally different works to what we do, but from the same creative and technical basis. This challenges us as engineers to think outside the box and look at things from different angles. Because that's what we do too, in order to come up with solutions for the complex social challenges of today. JODI provide us with a valuable means of reflection at a time when our services as a consultancy and engineering firm are becoming increasingly digital.'
JODI
JODI is a contraction of the first names of Joan Heemskerk (1968, the Netherlands) and Dirk Paesmans (1965, Belgium). They have worked together since 1994 and form a duo both in their private lives and professionally. They met at the Jan van Eijck Academy in Maastricht, where they studied photography and video art, respectively. In order to increase their proficiency in digital media, they continued their studies at San José State University in Silicon Valley. It was there, in the early 1990s, that they were introduced to the internet, and they have since done pioneering work in the fields of net.art, software art and game modification.
JODI's work is included in most art history books on electronic and media art, and it has been exhibited at venues such as documenta (Kassel), Stedelijk Museum (Amsterdam), ZKM (Karlsruhe), ICC (Tokyo), CCA (Glasgow), Guggenheim Museum (New York), Centre Pompidou (Paris), FACT (Liverpool), and Museum of the Moving Image (New York). Since 2018, JODI have been represented by Upstream Gallery in Amsterdam.
Jury: JODI pioneers in the field of media and technology
The three independent jury members were unanimous in recommending JODI as winners: 'Throughout their entire career, JODI have used the internet not only as a location for their artistic experiments, but also as a space for critical reflection on the aesthetic and political effects of the medium itself. JODI's artistic interventions inspire, in an accessible way, contemplation of the complex technological systems that we all have to accept as we become increasingly dependent on them – for example, Google Maps or a wi-fi connection.'
'We have great admiration for the pioneering role these artists played in the early days, as well as for how they manage to incorporate, to this day, new technologies and their daily use. Whereas their work in the 1990s mostly occurred on the internet, in recent years JODI have continued successfully finding a suitable form of presentation for their ideas. In doing so, they use a variety of media and techniques: installations, games, software, websites, prints, sculptures and performances.'
Prize ceremony
After not holding a physical ceremony last year due to the corona pandemic, the Art+Technology Award will be handed out this year in a public gathering on 4 November 2021. The presentation will take place in
Amare, the new cultural centre at Spuiplein, where the Royal Conservatoire of The Hague will soon be located. Starting this autumn, the Conservatoire will permanently exhibit 'Acht Labielen' by Dick Raaijmakers (winner of the Art+Technology Award in 2011) at this location. These recently restored works will also bepresented on 4 November 2021.
Final edition
JODI are the 20th and final winner of the Witteveen+Bos Art+Technology Award. After twenty years, this marks the end of a highly acclaimed prize in the art world. Witteveen+Bos has decided to express the company's affinity with art via different means in the future. For instance, we are focusing more on sponsoring artistic initiatives and participating in collaborations between government, the business community and artists, such as the European S+T+ARTS programme. Starting this summer, we are working together with In4Art, the Regional S+T+ARTS Centre for the Netherlands, to set up a fellowship with the theme of 'Repairing the Present', in which two artists will be part of two Witteveen+Bos projects concerning the sustainability transition.
Read more here.
Publication date: 29 Sep '21