Upstream Gallery presents 25 years of JODI at Art Basel 2021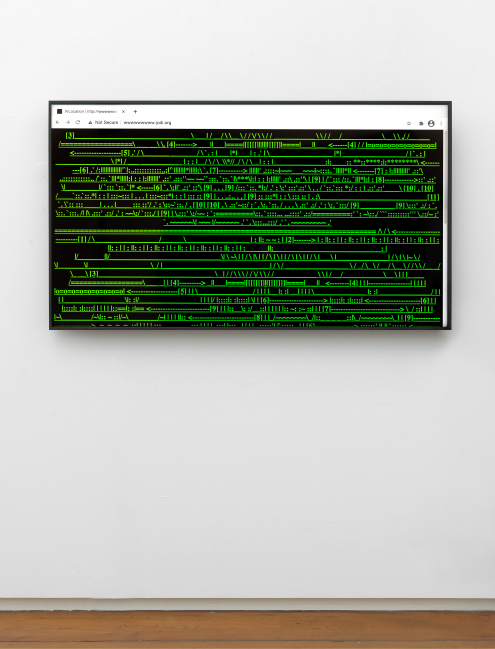 Upstream Gallery presents 25 years of JODI at Art Basel 2021
ART BASEL 2021
Hall 2.1 | Booth T1
See preview here.
Upstream Gallery presents the work of artist duo JODI, dedicated to signal their position as pioneers in the international development of internet art in the mid 90s. Brought together for an international public for the first time, the presentation includes iconic works, among which JODIs first website, that was shown in the internet art section at Documenta X in 1997, early game modifications such as SOD (1999), one of their better known software works OSS/**** (1998) and more recent work, like //iFi (2017-2019) that has been exhibited at the Stedelijk Museum in Amsterdam in 2018.
Collaborating as JODI since the early 1990s, Joan Heemskerk and Dirk Paesmans were among the first artists to respond to the introduction of the internet. Since 1995, JODI has pursued a programmatic, artistic exploration of the computer and the internet. Their practice is characterized by chaos and non-functional designs that reveal the fundamental characteristics of the net. In a medium-specific way, they (de)construct and analyze the languages of new media: from visual aesthetics to interface elements, from codes and features to errors and viruses. They challenge the relationship between technology and users by subverting our expectations about the functionalities and conventions of the systems that we depend upon every day.
Digital art, while often been under-recognized in art history, is the most radical art development in decades. This statement has been underscored by the digitalization of the art world which has gained momentum due to the pandemic over the past 1,5 years. The NFT boom in 2021 gave digital art another impulse. JODI has played a central role in it since the rise of net art in 1995. Their work has been featured extensively in writing about electronic and media art, they exhibited at Documenta X in Kassel (1997), received the first Webby Award in the net art category (1999) and in 2014, they received Rhizome's inaugural Prix Net Art.Their work was acquired by a.o. the MOMA, New York, SFMOMA, San Francisco and Stedelijk Museum, Amsterdam.
In the past years, the urgency of net art also has been acknowledged more and more by art institutions. JODI's work was part of presentations at, among others, MOMA, New York, Whitechapel Gallery, London, ZKM, Center for Art and Media, Karlsruhe; Bonner Kunstverein and Artothek, Bonn; InterCommunication Center, Tokyo; Centre Pompidou, Paris; Center for Contemporary Arts, Glasgow; Guggenheim Museum, New York; Eyebeam, New York; and Museum of the Moving Image, New York.
Upstream Gallery's participation in Art Basel is supported by the Mondriaan Fund.
Publication date: 23 Sep '21