Past exhibition
Winners & Losers
Cristian Andersen
Amsterdam, 27 Oct - 21 Dec '07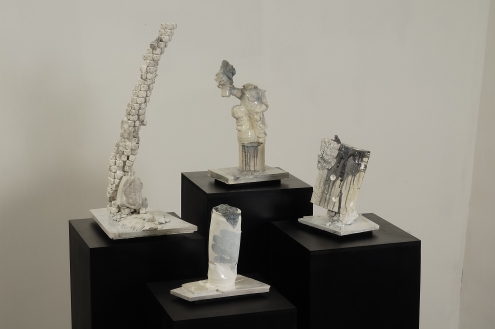 Past exhibition
Winners & Losers
Cristian Andersen
Amsterdam, 27 Oct - 21 Dec '07
Upstream Gallery announces her final show at the Kromme Waal 11 in Amsterdam:
Cristian Andersen
Soloshow with new drawings, photography and sculptures
At first sight Cristian Andersen's works appear like eruptions whose intensities shatter forms and motifs, yet also the spectator's perception. Organic tree trunks are turned into industrial wood, minimal objects are marked by aerosol, and martial weapons are made not form cold steel but from soft wax. These works confront the spectator with confusing scenarios, chimerical and fey. Yet, they also provide for ironic moments: a sparrow made out of violet ceramics sitting on a plinth wearing a hat for example. The interaction of different media, deploying their potentiality and consequently framing issues about inclusion and exclusion, identity and subcultural references are distinctive of Andersen's body of work. In his current work he particularly deals with strategies of territorial occupancy and its domination. He transfers its symbolism and imagery to aesthetic forms in order to negotiate questions around power and its regulation.