Past exhibition
Insurrection for a Million or One
Jen Liu
Amsterdam, 8 Mar - 3 May '08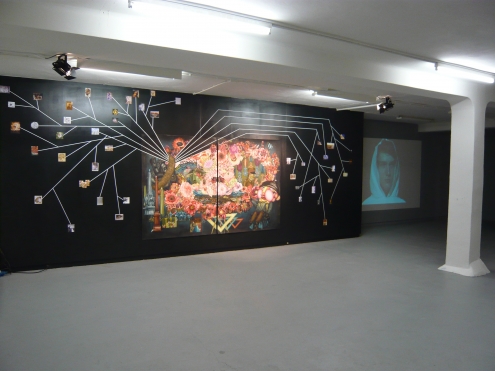 Past exhibition
Insurrection for a Million or One
Jen Liu
Amsterdam, 8 Mar - 3 May '08
INSURRECTION FOR A MILLION OR ONE
"Meanwhile, with the world at the edge of extinction, we cannot afford to wait for the mass."
- Alexander Trocchi, "A Revolutionary Proposal: Invisible Insurrection
of a Million Minds", 1962
Jen Liu's videos and drawings are based on her ongoing tale of the
"Brethren of the Stone," a back to nature cult that clashes with
modern industrial society. Her work is a take on
quasi-fantasy-science-historical fiction, in which cosmologies are
created in order to engage with current and historical social strife
and environmental degradation.
In this new chapter of the Brethren of the Stone, the heretical
brothers weigh different options for a revolutionary strategy. Taking
a tip from contemporary political history, they weigh options such as
bomb warfare and weapons buildup, obsolete conventional line warfare, as well as interpersonal violence targeting specific individuals suchas the Iron Princess.
Nature frames this all, likening weapons buildup to a squirrel's nuts, memento mori flowers smile at us, and the hothouse potted plants of the Barbican Centre in London masquerade as true nature.