Past exhibition
Sculptures
Maartje Korstanje
Amsterdam, 17 Feb - 2 Jul '08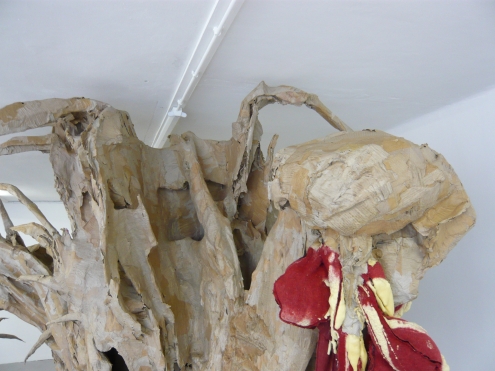 Past exhibition
Sculptures
Maartje Korstanje
Amsterdam, 17 Feb - 2 Jul '08
Maartje Korstanje creates sculptures that are often based on crises and beauty in nature, and the influence of man on this. A recurring theme is the transition between life and death. Korstanje's works are never too literal or figurative. This provides layered images that appeal to the imagination and provoke multiple interpretations. Characteristic of Korstanjes sculptures - often made of cardboard and glue - are the crude shapes.
The creative process plays an autonomous role in her work. Not a sketch, but the material, the way it takes form under her hands and naturally grows into an image forms Korstanje's main starting point. Chance plays an important role in this process, which results in unexpected and fascinating shapes. Several elements are brought together as fragments of a coherent volume, which seems familiar at a first glance, but when one looks closer turns out to be something indefinable.
In 2007 she won the prestigious Dutch prize Prix de Rome (basisprijs), for young artists and architects of internationall caliber.