Past exhibition
Aria de Mustang
Katrina Daschner
Amsterdam, 21 Mar - 9 May '09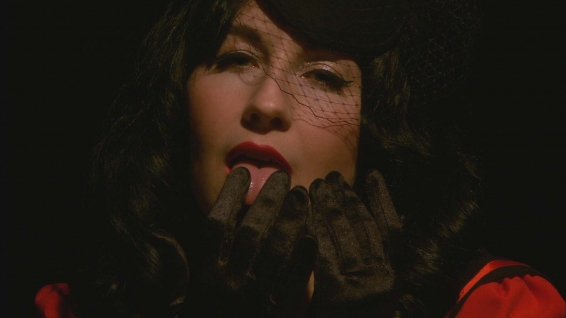 Past exhibition
Aria de Mustang
Katrina Daschner
Amsterdam, 21 Mar - 9 May '09
In the exhibition 'Aria de Mustang' at Upstream Gallery, Katrina Daschner shows her latest movie of the same name. This movie is part of a triptych of a burlesque movie-series.
In the first part of this series, 'Hafenperlen', (that recently was shown in the Cobra Museum), two women are fiercely flirting with each other. The duel continues in 'Aria de Mustang', but the roles transform into those of a dressage-roadster and a dressage-horse. Diacritical element in both movies is a lesbian-gay choir, which not only shapes the formal context. The choir marks the setting, shows the context, the stage setting and simultaneously forms an audience for the neo-burlesque scene.
The initially patheticly distanced and seemingly disciplined choir changes her character in the final scene and becomes an ecstatic crowd. In stand of the collective laugh attack as in 'Hafenperlen', 'Aria de Mustang' climaxes in a collective coloratura.
Furthermore Daschner is showing new photo's in a specific theatrical setting that is connected to the performance- and theatrical staging of the movie