Past exhibition
The Third World
león & Cociña
amsterdam, 3 Sep - 1 Oct '11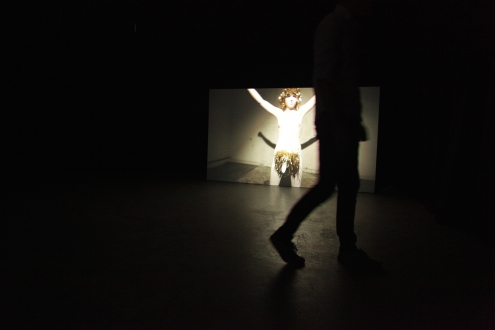 Past exhibition
The Third World
león & Cociña
amsterdam, 3 Sep - 1 Oct '11
Upstream Gallery is pleased to present the first soloshow in the Netherlands by the Chilean artists Cristóbal León and Joaquín Cociña.
"It is inevitable to think that this hallucinatory and ridiculous show expresses somehow the subterranean and transgressor spirit. The Third World is the only salvation" El Divino Anticristo José Mariíta
Animation (stop-motion animation, puppetry animation) is one of the key themes in the strange and magically surreal films by Cristóbal León and Joaquín Cociña. In their exhibition "The Third World" they show a video-installation made up of the 3 films "El Arca", "El Templo" and "Padre. Madre.", all of them produced during the last year. These films are the foundational chapters of a new creed. They present a savage procession, moving between sacred and intimate, beautiful and horrific, canonical and arbitrary, sublime and bestial. Every film is the beginning of a myth and also its immediate decadence. Cristóbal León and Joaquín Cociña started collaborating in 2007, when they gathered together with Niles Atallah to produce a 2-part series of animation films called "Lucía, Luis y el Lobo" ("Lucía, Luis and the Wolf"), which was supported by the FONDART grant from the Chilean government. Recently their videowork has been on show at the YouTube Play Biennial in the Guggenheim NY, the KW Institute For Contemporary Art in Berlin and the Bienal de Artes Visuais do Mercosur in Porto Alegre, Brazil. Also the films have been shown at film festivals internationally and have won several awards such as the Asifa Austria Award at the 7th edition of the VIS VIENNA INDEPENDENT SHORTS, the international short film festival.
UPCOMING: Cristobal Leon, Niles Atallah & Joaquin Cocina at Whitechapel Gallery London, 14 October – 15 January 2012