Past exhibition
Day's End
Frank Ammerlaan
Amsterdam, 30 Nov '12 - 19 Jan '13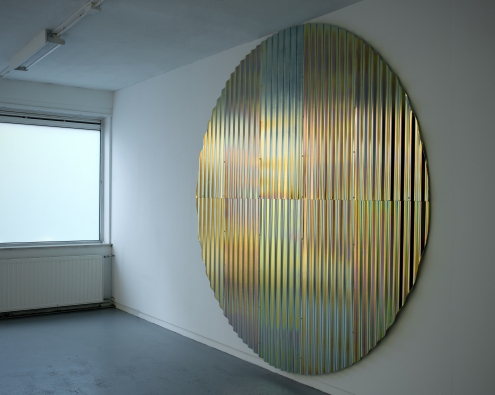 Past exhibition
Day's End
Frank Ammerlaan
Amsterdam, 30 Nov '12 - 19 Jan '13
Upstream Gallery proudly presents Day's End, the first solo exhibition of Frank Ammerlaan (b. 1979).
"To Be" is a form of disappointment, it can be considered a static concept, a hollow fiction. The edge is more affecting than the central, the periphery seems to be attuned to changes in form and content. Beyond the center is where we search for the unknown, where we perform our curiosity for the future. Ammerlaan's large, dark oil paintings bear subtle looming color spots embroided with shiny, fluorescent threads. The shift between figure and ground in the work runs parallel with the development between central to periphery, the thread plays an active protagonist that structures this painted ground. The fragile and trembling strings pick up the sunlight in daytime and the changing electric lights at dusk, the work vibrates slowly like an Aeolian harp, set to play by the changes of the wind outside. The geometrical patterns of thread create a permeable fence, like a web or weave able to get stuck in - or hold on to. These works behave as an illuminating and seductive omen but curdle into a form of dilemma. Small sensitive sculptures - electroformed with different types of conductive metal - are made of repetitive geometric shapes originated from for example aerial and antenna structures. The sculptures suggest a biomimicry related language ready to perceive and distribute signals and information. A recent development in Ammerlaan's practice are his paintings made with chemicals. Having done research for a number of years with chemists and scientists he physicalized the phenomenal aesthetics of the organic colour arrangements - visible on an urban rainy day - in the form of oil spills. The result is extremely detailed, holographic but toxic, and becomes noxious in its contemporary political context. The individual works in Day's End read as chapters in a script channeled through an installation of painting, sculpture, photography and film. The title Day's End relates to the similar title of the work of Gordon Matta-Clark from 1975. In a silent film Matta-Clark leads the natural light form outside in a derelict warehouse situated on a abandoned pier in the Hudson River in New York.
Ammerlaan lives and works in London and recently graduated from the Royal College of Art. With his degree show he won 'The Land Securities Studio Award'. He won the Royal Award for Painting in The Netherlands in 2012. He is also co-founder of the art centre De Service Garage in Amsterdam.
More photo's of Day's End can be found here.