Past exhibition
After the Goldrush
Rob Voerman
Amsterdam, 8 Jan - 18 Feb '11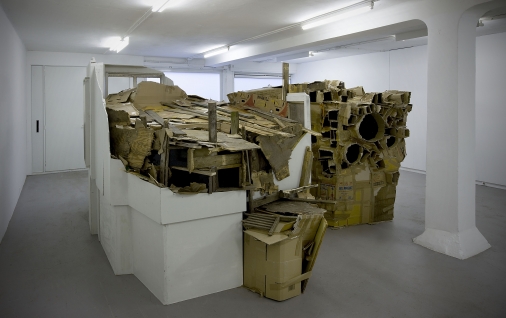 Past exhibition
After the Goldrush
Rob Voerman
Amsterdam, 8 Jan - 18 Feb '11
In his exhibition 'After the Goldrush' at Upstream Gallery, Rob Voerman is showing a giant installation and new sculptures together with new works on paper (watercolours and prints).
A couple of works in the exhibition refer to "Unité d'Habition", a residential complex dating from 1952 designed by Le Corbusier. It is a utopian and groundbreaking design of a townhouse, existing of 18 levels, which stands as an icon for modernism. Rob Voerman combines ideas and ideals from that period with 2011 reality.
Our presence is strongly characterized by globalisation and related subjects like migration and strongly changing social connections. In Le Corbusiers time, the future seemed makeable, in which architecture played an important role. Nowadays our time seems to be in a state of big chaos, in which large ideals and utopias are mostly gone.
Some works of Rob Voerman refer directly to Le Corbusiers designs, but show a grimly overtone. The use of cardboard with Chinese and other foreign inscriptions refer almost directly to this extensive globalisation and the change our society has gone through. Another new element in Voermans work is the idea about a big garden, consisting of wild thistles, linked to a temporary pavilion. Hereby a short description about Voermans plans, which will be realized on a bigger scale in the near future:
The plants will be planted in straight lines and patterns in Voermans plan, somewhat comparable to the French gardens of for example Paleis het Loo. The almost anarchistic plants that are welcome nowhere, but become beautiful plants in Voermans design are being forced in the straightjacket of a set grid.
Indirectly Voermans work is a comment on the strict rules on design in Holland, where he lives and works. The strictly arranged and over controlled environment he lives in is also a good breeding ground for his work, it challenges him to set his own thoughts and concepts oppose this.
The thistle is not a very loved plant, it is difficult to exterminate and therefore hated by farmers and gardeners. It is a plant that settles mainly in temporarily disturbed soil. Its seeds are being transported through the air and don't clinch to physical boundaries. It is a beautiful metaphor for immigration and migration. In short it is an almost anarchistic plant, but with a beautiful inflorescence and a tough nature. It is a plant that stands opposites overview and order, which our country is aiming for.
By forcing them in an absurd way in patterns, Voerman questions the Dutch mentality and relation to public space and regulatory.
Next to the above-mentioned content, Voerman also wants it to be a visual beautiful and alienated garden. Like already said Voerman wants to base the garden on French gardens, often seen at palaces. In this case thistles will form a stylized representation of an explosion placed centrally in the pavilion. The pavilion will be made out of scrap wood, coloured cathedral glass and large dark coloured plexi glass windows. French gardens were previously known as a display of power and wealth, this garden will be a display of improvisation, controlled chaos and temporality.
In this new exhibition at Upstream Gallery Voerman will for the first time show a big graphic work of 2 by 2 meters and an installation/image that refers to the plan of the thistle garden.
These new works seem an attempt to flight out of the quickly changing society in a self-created reality, and at the same time an attempt to reflect on this same change without any moral verdict.