Past exhibition
Crossing the Threshold
Izaak Zwartjes
Amsterdam, 29 Jan - 2 Mar '13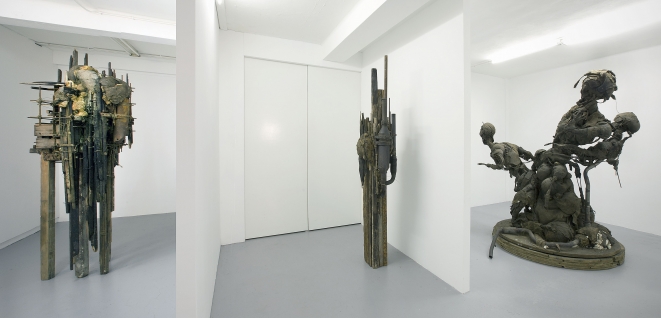 Past exhibition
Crossing the Threshold
Izaak Zwartjes
Amsterdam, 29 Jan - 2 Mar '13
For his second soloshow in Upstream Gallery Dutch sculptor Izaak Zwartjes (1974) investigates the twilight zone between art and reality. He plays with the capacity to believe in a spiritual world. For him, being an artist is a means of establishing contact with this other realm. Here, the distinctions between the artist and the work grow indistinct. Izaak Zwartjes couples his own 'vision', intuition and behavior to the existence of a universal source from which evolve images that are inseparable from the human subconscious. He combines the urge to discover this deeper reality with an interest in the theories of evolution, psychology and religion. The result is magical, bizarre and intangible.
The mixture of modernity, mythology and religion in Izaak Zwartjes' work evokes a wide range of associations. His new life-size sculpture 'The Rape of Dithyrambos' consists out of 3 three mythical creatures composed of manure and leather, iron wire, burlap and wood, horse blankets, kapok and rags, of sisal rope and beeswax. Izaak Zwartjes has no pity on the matter nor the spectator, his work is primarily a brutal confrontation sensation, a shock. The group 'The Rape of Dithyrambos' from 2012 embodies impotence, corruptible flesh and pain and it shows the disfigured victims and / or perpetrators.
The central figure is Dithyrambos, he could be Bacchus or the artist himself. The god of the grape, fertility and drunkenness is out of control. In front stands a warrior fleeing into the apparent escape of the ratio. The central Dionysos or Dithyrambos is called 'him of the double door' by him. Like a vine a woman, his muse, is winding herself around the central figure. It embodies a suffocating temptation, the animal instinct of passion.
Further Zwartjes is showing some scale-models intended as a zoom out on the mythical landscape in the form of a tower and a space scale-modified to a cathedral. Also new is the mysterious Astronaut, a traveler past the double doors.
Izaak Zwartjes (1974) graduated from the Royal Academy of Art The Hague in 2008. In 2009 he filled the 500 m2 ground floor of the Cobra Museum for his soloshow 'Exodus' with a monumental installation. In 2010 he filled Upstream Gallery with his installation 'Rudiments of Territory' which best can be characterized as environmental, the podia on which episodes of a narrative take place. Part of this installation was bought by Martin Margulies who later showed it in an exhibition at the Margulies Warehouse from November 2011 through April 2012.