Past exhibition
Forgotten children conform a new faith
Pepo Salazar
Amsterdam, 31 Oct - 19 Dec '09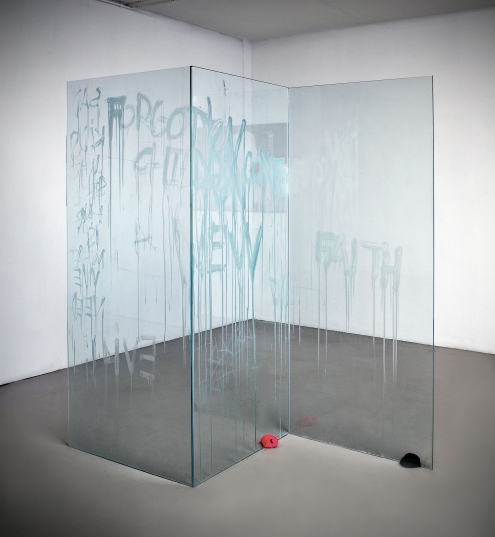 Past exhibition
Forgotten children conform a new faith
Pepo Salazar
Amsterdam, 31 Oct - 19 Dec '09
Upstream Gallery has great pleasure in presenting Pepo Salazar's (b.Vitoria, 1972), one of the best known contemporary Basque artists.
The opening will include a performance by the artist in the Ostadetheater (from 17.00-18.00) after which the exhibition in the gallery will be opened (18.00-20.00). The show consists out of new works including installations, video projections, large sculptures and photographic murals.
Works in the show are about the crises that occur so frequently in contemporary life: the mistakes, low periods and deviations that occur when people fail to meet the demands of modern-day society.
These ruptures are sometimes expressed in the form of pathological social behaviour or personal crises and breakdowns. They have to do with the expectations about existence that the spectacular neo-liberal consumer society and contemporary philosophy generate.
Salazar works in a raw style that has Punk overtones. Punk had a strong influence on Salazar during his adolescence and is frequently found in his works. As well as references to the world of music and youth culture, the exhibition reflects the artistic avant-gardes and advertising techniques and the way they are used on the cultural project market conveying emptiness and saturation.
All this depictured as dysfunctional machines and scenes, light and sound systems to express a feeling that is somewhere between subversive and aimlessly hedonistic. The machines are no longer useful, the scenes bare and abandoned, the spaces empty and signs of vandalism. All these factors are placed within the general context of a moment in history when people talk about the death of the great utopian projects and when the failure of the free-market system is plain to see.
Pepo Salazar has shown works in solo and group exhibitions in Spain, Argentina, Italy and Belgium, and in the cities of Paris, Berlin, New York, Singapore and Amsterdam.
He has exhibited at the Venice Biennale, the Palais de Tokyo in Paris, the Kunstlerhaus Bethanien in Berlin, the Art in General gallery in New York, the MUSAC contemporary art museum in Leon, the Guggenheim Museum in Bilbao, the TRAFO museum in Singapore, the Koldo Mitxelena cultural centre in San Sebastian and the Tapies Foundation in Barcelona.
He has been awarded several international residence grants and has won the prestigious Gure Artea prize. He has also been awarded the MUSAC grant for creative work, the ARTIUM grant for creative work and the CAM Savings Bank's grant for artists.