Past exhibition
9/11 666 777
Marc Bijl
Amsterdam, 11 Sep - 23 Oct '10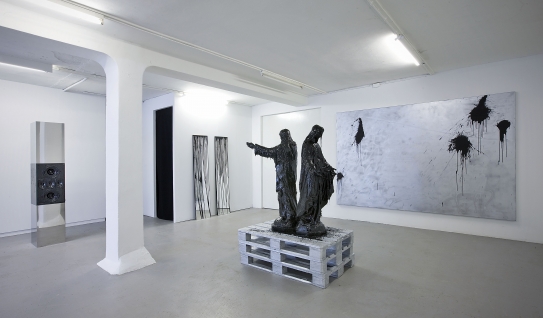 Past exhibition
9/11 666 777
Marc Bijl
Amsterdam, 11 Sep - 23 Oct '10
Dutch artist Marc Bijl (b. 1970) is a highly versatile artist who switches
as effortlessly between anarchism, Gothic culture, art and life as he does
between the media of image, text and music.
In his early work Marc Bijl reacted to global themes and to popular
fascination with symbols of political power, globalization of the economy
and nationalism. This resulted in interventions in public space, videos,
sculptures and installations that underscored or undermined world views.
Whether addressing politics, religion, globalization and its backlash, or
the art scene, Bijl endeavours to expose superficialities and myths via his
work. To do this he employs visual elements borrowed from punk and Gothic
subcultures and from anarchism. These elements can also be discerned in his
later work: the philosophical quotes in graffiti on walls, flags in various
renderings and with various texts, and the black sculptures of dark knights
on horseback, eagles and Lara Croft.
The new soloshow of Marc Bijl at Upstream Gallery will be the last show
where dark symbolism will meet up with abstract forms. After this it
will be codes only. It is the moment before total paranoia and
abstraction of the artists work.
Every structural political or religious system is a system of power,
sustainability and belief and not of wisdom, change and development.
This show connects the artists thoughts on those structures and where
he belongs himself as an artist in an arthistorical context.
Some previous works were adressing already the spiritual minimalism and
abstract questions referring to Barnett Newman, Piet Mondrian and
SoLewitt. They were searching for the same exit strategy, away from
religious freedom and political choices into fundamentalistic thoughts
and radical art.
This exhibition will show the missing link between that spirit and Marc
Bijl's own personal background of goth music, political interest and
grafitti-art. Departing from the 9/11 WTC attacks and their ever
lasting debates and conspiracy theories as a backdrop for the human
ability to turn every disastrous event into an abstract idea of good and
evil. Old vs New. The cliché images we might know from existing theories
and arthistory into personal works of art of conspiracy between
paintings, video and sculpture.