Past exhibition
Underground
Maartje Kostanje
Amsterdam, 7 Sep - 12 Oct '13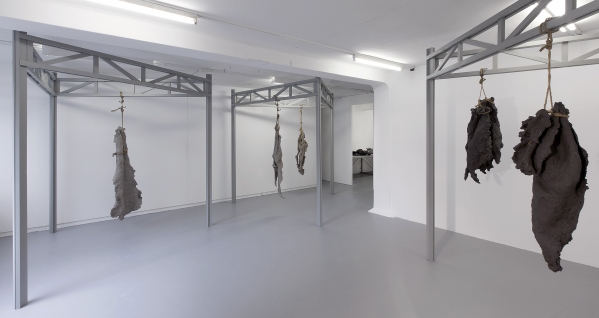 Past exhibition
Underground
Maartje Kostanje
Amsterdam, 7 Sep - 12 Oct '13
Underground
Upstream Gallery proudly presents the soloshow 'Underground' by Maartje Korstanje (Goes, 1982). This exhibition mainly presents ceramic sculptures, which are the result of a work period at the European Ceramic Work Centre in Den Bosch (ECWC).

Maartje Korstanje makes sculptures often based on crises and beauty in nature and the influence of man on this. A recurring theme in her work is the transition between life and death. Korstanje's works never are too literal or figurative. This provides the layered images that appeal to the imagination and provoke multiple interpretations.
Characteristic of Korstanjes sculptures - often made of cardboard and glue - are the whimsical shapes. The creative process plays an autonomous role in her work. Not the sketch, but the material, the way it takes form under her hands and naturally grows into an image is Korstanje's main starting point. Chance plays an important role in this process. Unexpected and fascinating shapes are the result. Several elements are brought together as fragments of a coherent volume, which seems familiar at a first glance, but when one looks closer turns out to be something indefinable.
During her work period at ECWC in early 2013, Korstanje internalized an entirely new material and technique within a very short time. Ceramics suited her well; expansion into this medium was a natural step in the workflow.
The new series of ceramic sculptures appearing at Upstream will be reminiscent of carcasses as they hung in the butcher's window in earlier times. In present time butchers have almost disappeared in the Netherlands. The meat sold in the supermarket is made as sterile and unrecognizable as possible. The work of Korstanje grabs right back to the raw beauty of the unvarnished. She reveils the unpredictable and sometimes dark shapes, which normally are concealed.
The ceramic works show Korstanje's explorations into the possibilities of a new medium. This investigation did strengthen also the formal language of her other works.
The cardboard sculptures that she made after her work period at ECWC are clearly influenced by her new technique. She approaches the material in a more plastic manner; the cardboard seems to be sculpted and glaze is replaced by epoxy.
She did residency programs at Kunsthuis SYB (2007), Centre for Contemporary Art, Curacao (2008) and European Ceramic Work Centre (2013) and has won several awards. Her work has been presented in several groupshows, such as Roger Raveelmuseum, Machelen-Zulte, Landgoed Anningahof, Zwolle, GEM, Den Haag, Groninger Museum, Museum De Pont, NEST, Den Haag and the Hudson Valley Center of Contemporary Art New York. Soloshows of her work have been exhibited at De Vleeshal, Middelburg, Art Rotterdam, Zeeuws Museum, Middelburg. A retrospective of her work will open at Museum Jan Cunen in Oss on September 15, 2013.