Past exhibition
External Memory
Rafaël Rozendaal
Amsterdam, 22 Mar - 23 May '14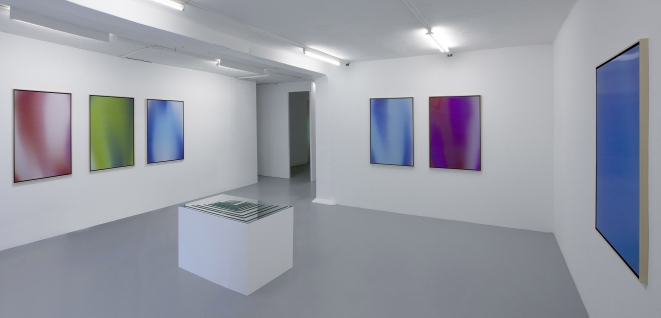 Past exhibition
External Memory
Rafaël Rozendaal
Amsterdam, 22 Mar - 23 May '14
With the solo exhibition "External Memory" Upstream Gallery proudly introduces a new artist: Rafaël Rozendaal. Rozendaal is a pioneer in the field of Internet art, a relatively young discipline that is gaining ground slowly but steadily.
For Rozendaal, the Internet functions as studio, canvas and exhibition space all in one. Since 2001, he has been creating artworks in the form of websites. These works exist purely online: they have no physical form or location. The websites are based on a set of rules, and finding out how they work is up to the visitor. With the cursor one can interact with the work, which affects its visual form.
Some websites give a simple yet satisfying pleasure, like popping bubble wrap. Others provide an almost hypnotic and meditative experience, just like staring into a fire or at the ocean. In some works, the boundaries between the artwork and the rest of the Internet are being broken. There are sites with simply stylized objects, but also more abstract works, referring to art historical movements of the twentieth century with their geometric motifs and flat compositions.
The playful and colourful visuals of the works of art can be misleading: they often touch upon a more serious subject matter. This is reflected in titles such as Deep Sadness .com, that give the works an alienating quality. The titles additionally function as location, shape and frame of the digital pieces.
Internet art offers a whole range of new possibilities: for instance, Rozendaals works reach a very large audience with over 30 million hits a year. But with the new discipline, too, new questions arise, especially with regard to more traditional forms of art. How do you collect a website-artwork, and how should it be displayed in a traditional gallery space? Rozendaal is actively involved with these issues in his artistic practise: for example, the buyer of a website is obliged to keep the work on-line and publicly accessible.
The artist also researches how his works can be translated into the physical world. For several exhibitions he created interactive installations based on websites. Other digital works can be converted to physical objects. The series Popular Screen Sizes (2011) for example: a series of mirrors with exactly the same dimensions as computer and smartphone screens. Just like digital displays, mirrors are flat planes that have a rear side, but at the same time have endless depth. With both mirrors and screens, the number of potential physical appearances is infinite.
In 2013 Rozendaal started creating a new series of physical objects based on digital works. For these works he uses the medium lenticular painting: the image changes along with the point of view of the observer. In this way, an object can have the same physical properties as the digital works: there is movement, interaction with the viewer, and an endless number of compositions. And just like the websites, the lenticulars give a particular thrill upon discovering them: you feel like you want to share them with others right away.
Rafaël Rozendaal (1980) is a Dutch-Brazilian artist who currently lives in New York. His work is regularly exhibited, not only in Europe and the U.S. but also in Asia and South America. He has worked with institutions such as the Centre Pompidou, Kunstverein Frankfurt, TSCA Gallery Tokyo, Seoul Art Fair, Media Art Institute and the Stedelijk Museum Amsterdam. He is a regular speaker on digital art topics and his work is discussed in international publications such as Time Magazine, Wall Street Journal, Flash Art, and Interview.
Rozendaal is also the founder of the exhibition concept Bring Your Own Beamer, an evening where artists bring their own projectors to display their digital work. Since 2010 there have been over 100 BYOB exhibitions, including one at the Venice Biennale. Rozendaal is a member of the abstract music group Cold Void.
More photo's of External Memory can be found here.