Past exhibition
Light and Shadow
Marc Bijl
Amsterdam, 19 Oct - 24 Nov '12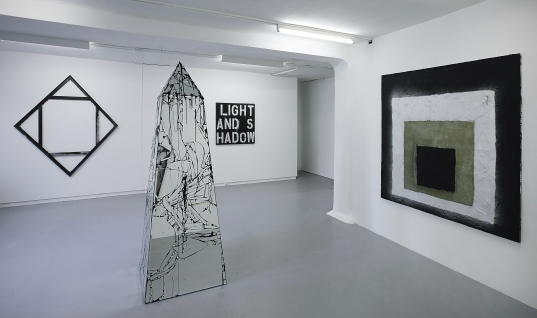 Past exhibition
Light and Shadow
Marc Bijl
Amsterdam, 19 Oct - 24 Nov '12
Light and Shadow
Without darkness there is no light, without law there would be no crime and without Christianity no Satanism. In his new soloshow Light and Shadow in Upstream Gallery artist Marc Bijl wants to make clear that the dark side of our lives, exists by the grace of light. The paintings and sculptures in this exhibition confront the viewer with his intuitive dark feelings.
Marc Bijl became famous with his engaged and gothic-like sculptures, paintings, installations and performances. In his early work he took up on art forms typical of the punk culture, such as graffiti and protests challenging important social issues. He sprayed offensive slogans as The World won't Listen, Kapital = Krieg, Modern Crisis, Terror at walls and buidlings in the public space, and disguised himself as a security officer and asked people in the S-Bahn from Berlin to show their ID . Bijl appropriates wellknown symbols and logos to, which have a connotation with power. He transforms and decontextualizes them, creating a new critical and alienating imagery.
Bijl's recent works have a more abstract focus. He uses the style of modern masters like Mondrian and Rietveld and minimalist artists of the seventies. Combining their imaginary with his own style.
With the works in this exhibition Bijl refers to the paintings of Joseph Albers and other hard-edge artists. Combining them with an activist style, typical of his early work. In Afterburner (after Albers), on show in this exhibition, Bijl replaces the smooth colorful composition of Albers for a composition in gray on a rough cement surface.
The diptych Light and Shadow, consisting of a painting and a broken mirror, gives a direct reference to the theme of this exhibition. Due to the rough texture of the surface and the raw typography of the letters the painting seems at first sight to be a graffiti on a concrete wall.
In addition to his paintings Bijl shows his new video "Urban Gothic", a DVD which he made in collaboration with his former Gothic band Götterdämmerung.
The message Bijl wants to carry out could not be clearer: All things in life have their dark sides. Learn to live with it and even better, try to laugh about it once in a while.
Marc Bijl (Leerdam, 1973) studied at the Academy of Fine Arts and Design in Den Bosch (1992-1997) and the Rennie Mackintosh School of Art, Glasgow (1996). In 2001 he stayed as artist-in-residence at the Künstlerhaus Bethanien in Berlin. In his actions, installations, videos and sculptures Bijl focuses on the symbols of mass culture, religion and politics. He critisizes the myths of nationalism and globalism using guerrilla tactics and visual elements borrowed from punk, gothic culture and anarchism.
Until 1 April 2013, his solo exhibition "Urban Gothic" will be on show in the Groninger Museum.
Recent solo exhibitions of his work took place in Tindebox Hamburg (2010), Kunstverein Artitude, Berlin (2010) Kunsthalle Fridericianum, Kassel, Germany (2009) Domus Atrium, Salamanca, Spain (2009), Cosmic Gallery, Paris, France (2005), GEM, The Hague, Netherlands (2005). Group exhibitions in which his work was on display include: The Collectors Show, Van Abbe Museum, Eindhoven, The Netherlands (2011), I should have done that, NEST, The Hague, Netherlands (2011), The Forgotten Years, 2007-2011, Hamburger Bahnhof, Berlin (2011), Germany Restless Empathy, Aspen Art Museum, Colorado (2010), Auto Center, Berlin, Germany (several exhibitions) In Standard Time, by Marc Strauss, Ana Cristea Gallery, New York (2010).
More photo's of Light and Shadow can be found here.