Past exhibition
The Fifth Season
Rob Voerman
Amsterdam, 18 Jan - 1 Mar '14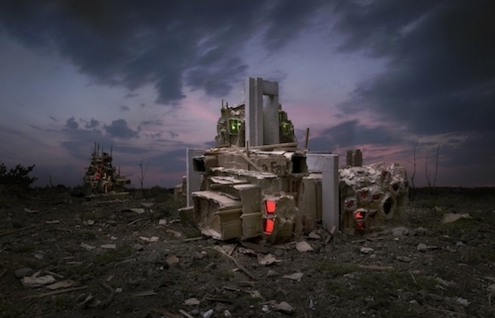 Past exhibition
The Fifth Season
Rob Voerman
Amsterdam, 18 Jan - 1 Mar '14
The Fifth Season
Between January 18th and March 1st, artist Rob Voerman will transform Upstream Gallery into one big art installation inspired by the ideology behind modernist architecture. In the middle of the room a large table will be placed, at which collaborators and visitors are invited to work, eat and discuss. Art audiences, but also residents and passers-by who normally do not step into a gallery, are welcome for a cup of coffee and hopefully inspiring unexpected encounters.
Ever since he was young, Rob Voerman felt involved in social, political and ecological issues. With 'The Fifth Season' he found a way to incorporate this engagement in his art by examining what is still left of modernist ideology. The title of the exhibition comes from the posh New York restaurant 'The Four Seasons', located in the iconic skyscraper the Seagram Building designed by architect Mies van der Rohe. Like many other modernist architects, Mies van der Rohe worked at Bauhaus, the idealistic early twentieth-century academy in Germany. Its students and designers hoped to contribute to a better world for everyone through their work.
There is a great contrast between those ideals and the buildings Mies van der Rohe designed in the US, which are mostly built for a wealthy elite. meanwhile, the concrete flats and social problems of suburbs such as Amsterdam's Bijlmer, which were based on modernism's socialist ideas, seem a proof that the modernist utopia has failed. Rob Voerman wants to investigate trough his work whether those ideals might nevertheless still be relevant in our time.
The influence of modernism's visual language is clearly shown in Voerman's work, but steel and concrete have been replaced by cardboard and stained glass. The clean architectural shapes have an affected, ruinous look: almost post-apocalyptic. It is easy to imagine that these proposed buildings are inhabited by individuals who turned their back to society and built their own utopian community.
In the exhibition new bronze sculptures will be presented, in which Voerman also used glass and dia prints. In addition, the first large-scale photographs by Voerman will be shown. For these photographs architectural models were used as base.
The exhibition 'The Fifth Season' will function as a stage for lectures, dinners, workshops and activities for residents and schools. The full program will soon be published on the Facebook page from Upstream Gallery.
Rob Voerman (Deventer, NL 1966) studied at the University of Wageningen, the Art Academy in Kampen and Vestlandets Kunstacademi Bergen (NO). He exhibits regularly, mainly in the Netherlands, Germany and the United States. Several publications appeared about Voerman's work and his work is included in museum collections such as MoMA NY, the Generali Foundation Vienna and the Valkhof Museum; private collections such as the Speyer Family Collection and corporate collections including those of Deutsche Bank, ABN Amro, Arcadis and Rabobank.
Image: Rob Voerman 'Aftermath' 2014. C-print, 99,5 x 155 cm / 39 x 61 inch
More photo's of The Fifth Season can be found here.