Current exhibition
Upstream Focus: Mountains and Drop Shadows
Jan Robert Leegte
Amsterdam, 23 Nov - 9 Dec '23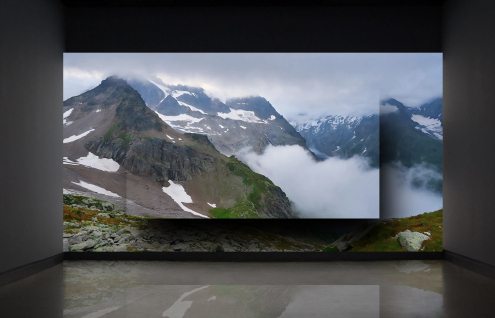 Current exhibition
Upstream Focus: Mountains and Drop Shadows
Jan Robert Leegte
Amsterdam, 23 Nov - 9 Dec '23
In honor of Jan Robert Leegte's presentation and NFT launch at Verse in London, Upstream Gallery is presenting works from his Mountains and Drop Shadows series in its private viewing space.
The generative work, Mountains and Drop Shadows (2023) will be on display in London. Outputs of this work release as a series of 80 NFTs on Ethereum on November 27th. Each NFT will be a unique responsive website containing a generative JavaScript/CSS animated drop shadow over a JPEG background image.
Presented during this Upstream Focus, this generative piece is displayed next to two printed works from 2016 - that originate from the net art piece mountainsanddropshadows.com which can be seen as a predecessor to the 2023 work. These physical works exist as unique prints based on the size of the web image, face-mounted on acrylic, mounted on dibond.
Mountains are grand natural statements of sculptural expression. They are birthplaces of sublime monumentality and romanticism. Their crumbs are the raw materials that provided us with a long tradition of sculpture.
In another realm, there is the ambiguous materiality of the digital, the human-made bits and bytes, in constant flow through systems, from which a new order of materials emerges at the surface of the interface.
Among them is the user interface phenomenon of the drop shadow. A material bereft of all our notions of materiality, it being nothing but the absence of light cast upon a surface due to an obstructing object. In the work, the shadow has been severed from a non-existent casting object making it less than nothing. But also the drop shadow being a digital simulacrum adds another step deeper into ethereality, making it almost a shadow of shadows. This places it in direct opposition to the most earthly rooted of them all, the mountain.
Mountains and Drop Shadows is a continuation of a line of work going back to 2013, with the net art piece https://www.mountainsanddropshadows.com in which a live script would continuously fetch images tagged 'mountains' from online databases. Because of this, the landscapes would become anonymised and delocalised, merely becoming an image, often ending as a humble desktop image.
For the most recent iteration of the work, querying databases felt like a thing of the past, as all those images have been added to the datasets of various image-generating AI services. Mountains and Drop Shadows, 2023 uses AI-generated mountain images, a mashup of all images of existing mountains, fully erasing the photographer's subjectivity and a-localising the image.
The work is a sculptural desktop standoff between a mountain dreamt up by the internet and a drop shadow. Embodiment vertigo on the summits of the interface.
Upstream Focus: Mountains and Drop Shadows | Jan Robert Leegte
23 November - 9 December 2023