Past exhibition
Upstream Focus: Raymond Barion
Raymond Barion
Amsterdam, 22 Jan - 19 Feb '22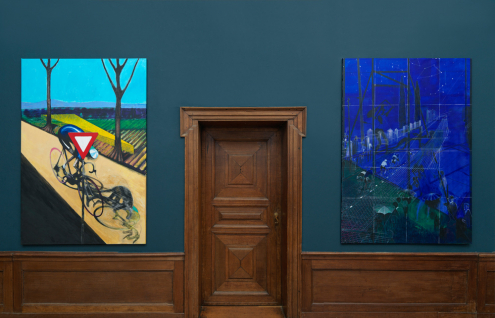 Past exhibition
Upstream Focus: Raymond Barion
Raymond Barion
Amsterdam, 22 Jan - 19 Feb '22
Upstream Gallery is proud to present work by Raymond Barion (NL, 1946) in our private viewing space. Barion's large canvases, characterised by the use of an isometric perspective and an almost mechanical touch, are influenced by the artist's affluence for drawing techniques used in architecture. The artist's paintings contain various spatial perspectives and other architectural elements.
Barion's has for decades technified the way of watching in the way that has now become commonplace. Thanks in part to gaming and VR, we have familiarised ourselves with the isometric perspective; the ubiquity of cameras has mechanised our view forever. Changes in our geopolitical reality have also enabled the viewer to look at Barion's work with a newfound interest. "We are living in a permanent transitional phase. Boundaries are blurred: there is no peace, but there is no war either; everything happens simultaneously. Moreover, the show society has become completely fragmented." The impenetrability of Barion's reflecting constructions evokes associations with various well known video games, but also Fortress Europe and the ongoing migration crisis facing Europe.
This 'transitional phase' can also be found in Barion's more recent works. By studying cyclists the artist explores the perception of movement and time. In his paintings the cyclists move, but their surroundings stand still, and so does the time. Barion calls this velocity a meditation of momentum. This state of progress and stagnation is a reflection on today's society. While having all these new technologies we still live in the same system.
Having studied both fine arts as well as art history, Barion's work obtains strong references to art historical movements. Herewith, the artists' work shows a thoroughly researched interest in mythology, literature, philosophy. Being a well-read man; Barion's works are influenced by the ideas of writers such as Franz Kafka, but also by philosophers, such as Nietzsche, Schopenhauer, and Deleuze.