Past exhibition
Upstream Focus: Alicia Framis
The Glass Ceiling
Amsterdam, 9 Feb - 16 Feb '21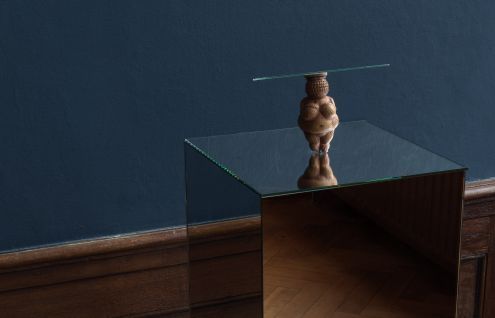 Past exhibition
Upstream Focus: Alicia Framis
The Glass Ceiling
Amsterdam, 9 Feb - 16 Feb '21
During the lockdown, while the gallery is closed, Upstream Gallery presents a new series of Upstream Focus. In this series of short exhibitions in our private viewing space, we highlight one (series of) work by one of our artists. Until the gallery reopens this will only take place online.
From February 9 – 16 we present two works by Alicia Framis that deal with the same subject: the glass ceiling.
The United States Federal Glass Ceiling Commission defines the glass ceiling as "the unseen, yet unbreachable barrier that keeps minorities and women from rising to the upper rungs of the corporate ladder, regardless of their qualifications or achievements."
The Walking Ceiling (2018) is video documentation of a performance that took place during Framis' solo exhibition Gender Pavillion at Sala Alcalá 31 in Madrid.
Once upon a time there was a woman, 23,000 BC-2020 (2020) is a sculpture in which Framis takes a typical representation of femininity and fertility, and portrays it as a symbol of women through out the history of humanity - their power stunted by the glass ceiling above them.⁣
Read more in the e-catalogue: