Past exhibition
call free to feel me. best regrets, Marijke
Marijke de Roover
Amsterdam, 25 Nov - 19 Dec '20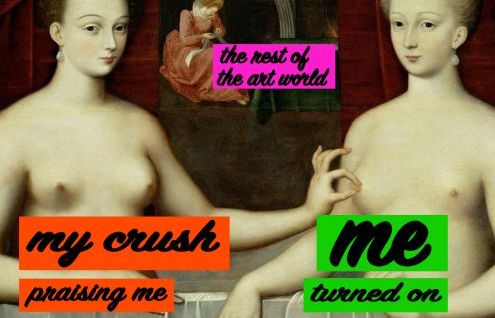 Past exhibition
call free to feel me. best regrets, Marijke
Marijke de Roover
Amsterdam, 25 Nov - 19 Dec '20
During Amsterdam Art Gallery Weekend 2020 we will be opening a presentation of works by Marijke de Roover in our private viewing space.
call free to feel me. best regrets, Marijke
Far from trivial, memes have been used to communicate political resistance and to develop a language, carrying the instructions for the reproduction of culture. Popularity and understanding are not default to progressive and inclusive memes. Rather, the simplification of the characters of memes rely on normative power structures, ultimately spreading stereotypical representations. Looking at gender in anonymous online spaces (where memes mostly circulate) we see they are more hostile and unwelcoming to anyone who does not identify as white and male. Sexualisation and objectification are far more common when social stigma can be detached from online actions.
Marijke de Roover about the series:
"In the series niche content for frustrated queers I affirm heteronormativity as the prevailing sexual orientation. But in light of Generation Y's online pessimism and self mockery, I am inspired by memes like a.o. 'distracted boyfriend' 'drake hotline bling meme', 'there are no girls on the internet' and 'fun with foucault' to express a way of thinking that shows how institutionalized heterosexuality structures gender, as well as other stratification categories, and closes off any critical analysis of its consequences. The 'unsuccesful' (because non viral, niche) memes deal with ideas of a wide variety of (in this series) coupling practices (e.g., dating, parties, marriage, and heartbreak) that secure the intersection of several consequential social hierarchies including gender, class, sexual orientation and institutional power."
Marijke de Roover (1990, BE) is a performance- and visual artist. She lives and works in Ghent, Belgium. De Roover holds a Bachelor and Master in Fine Arts from KASK School of Arts, Ghent (BE) where she was nominated for the Start Point Prize, Prague (CZ). Earlier this year she had her first solo exhibition in the Netherlands at Museum de Pont in Tilburg. Her work has been shown at among others: Museum fur Neue Kunst, Freiburg (DE), Museum de Pont, Tilburg (NL), MUHKA, Antwerp (BE), Garage Rotterdam (NL), Point Ephemere, Paris (FR), UNTITLED, Moscow (RU), BOZAR, Brussels (BE), Extra City (AAW), Antwerp (BE), Mu.ZEE, Ostend (BE), ARCADE, London (UK), ISELP, Brussels (BE), Museum Angewandte Kunst, Frankfurt am Main (DE), Beursschouwburg, Brussels (BE), Tatjana Pieters, Ghent (BE) & Soft Focus Institute.