Past exhibition
Greyed Out
David Haines
Amsterdam, 15 Jul - 18 Jul '20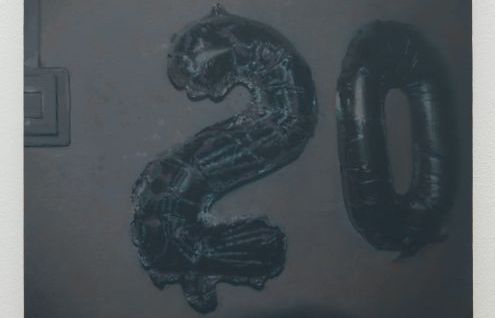 Past exhibition
Greyed Out
David Haines
Amsterdam, 15 Jul - 18 Jul '20
During the last week of his solo exhibition The Skin's Gaze (and other thoughts), David Haines will show three new works in our private viewing space.
greyed out
In computer interface terminology the term greyed out indicates that a function is no longer available. The viewer can see the function and try to interact with it but it remains inactive, muted, cancelled, postponed…
'Greyed Out' is a small series of works made by David Haines during the recent lock down. In this 'new normal' shiny balloons hang in the darkness of a cancelled celebration. Others spell out the year, or signify a birthday - caught in the dulled flash of a camera and lit for a split second they are fated to be be plunged immediately back into darkness. The feet of the artist's partner hang over the edge of the bed in benign domesticity. Rendered in paint on canvas, the image takes on somber associations.