Past exhibition
Upstream Focus: Alicia Framis
Glass Ceiling
Amsterdam, 29 May - 5 Jun '20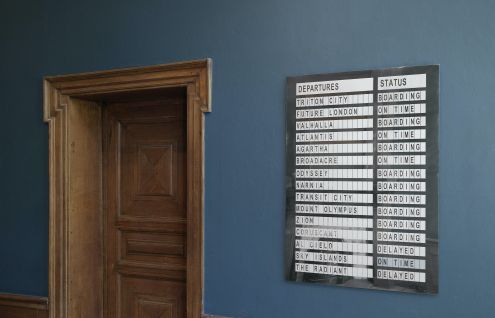 Past exhibition
Upstream Focus: Alicia Framis
Glass Ceiling
Amsterdam, 29 May - 5 Jun '20
During the COVID-19 pandemic, Upstream Gallery presents Upstream Focus, a series of single work exhibitions in our private viewing space. Every week we will highlight the work of one artist, both online as well as offline. The work is to be visited solely by appointment. Book your own timeslot, free of charge, via info@upstreamgallery.nl.
The fourth Upstream Focus is Alicia Framis' Depatures (Triton City).
With Departures, Alicia Framis theorizes the position of a traveler embarking on a voyage to an imaginary city. Using the visual language of airport terminal departure boards, Framis evokes the anxiety-fueled, escapist energy of spaces where we find ourselves in transit; the flights range from boarding, on time, delayed, to cancelled. Valhalla, Narnia, Odyssey, and Atlantis are a few of the destinations that have been drawn from historical works of philosop- hy, religion, science fiction, film, and the artist's own imagination. Departures lays bare how everyday practicalities both fuel and inhibit our ability to lose ourselves to alternate worlds.
Framis' Departures obtains special relevance during the current COVID-19 pandemic. The work questions our location of departure as well as our location of arrival in a period when many of us are in quarantine at home. Where do we go in such times? In a globalized, digitalized and constantly-on-the-move world, how does our concept of home change?
More info here.