Past exhibition
Upstream Focus: Marc Bijl - Dancing in 2020
on view in our private viewing space
Amsterdam, 23 May - 29 May '20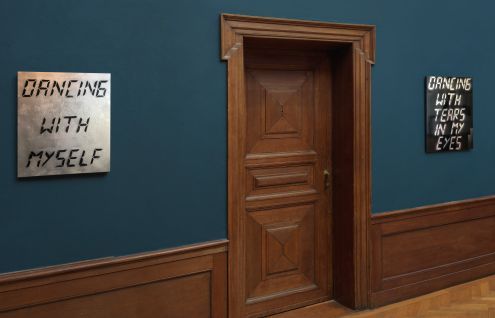 Past exhibition
Upstream Focus: Marc Bijl - Dancing in 2020
on view in our private viewing space
Amsterdam, 23 May - 29 May '20
The third Upstream Focus are Marc Bijl's Dancing in 2020 Part I (2020), spraypaint on wood and Dancing in 2020 Part II (2020), spraypaint on wood. In this document we will delve deeper into both the works as well as the artist.
Marc Bijl's Dancing in 2020 Part I & II are two sides of the same coin – both applicable to the year 2020. Crises of any nature can, in thei essence, be seen through both dystopian as well as utopian predictions of the future. Dancing with Tears in My Eyes and Dancing by Myself, both referring to the song titles of 80s hits by Ultravox and Billy Idol respectively, hint at the crises of the 1980s and the, arguably analogous to the year 2020, uncertain outlook on what the future may bring.
The artist notes that the 1980s were a time of large uncertainty and dystopian predictions of what is to come... but also a time of bad B-rated movies, all of which Bijl watched on the first Betamax tapes
In his works, Marc Bijl often refers to musical periods at large, wherein he then highlights the doom and gloom of the particular.
More info here.