Past exhibition
Upstream Focus: Jen Liu - The Pink Detachment
Book your own timeslot via info@upstreamgallery.nl
Amsterdam, 9 May - 15 May '20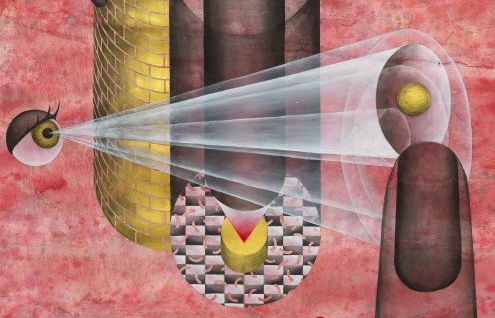 Past exhibition
Upstream Focus: Jen Liu - The Pink Detachment
Book your own timeslot via info@upstreamgallery.nl
Amsterdam, 9 May - 15 May '20
During the corona crisis, Upstream Gallery presents Upstream Focus, a series of one work exhibitions in our private viewing space. Every time, we will highlight one work by one artist, both online and off. The work is to be visited only by appointment. Book your own timeslot via info@upstreamgallery.nl.
The first work in focus is Jen Liu's The Pink Detachment: Principle of Secure Infrastructure. The Pink Detachment project constitutes an important reflection on historic, political, social and gender issues. Jen Liu's vivid style is activated to propose questions about the nature of capitalism, ideology, propaganda and advertising, and power relationships, not least of which appear in gender dynamics. Both her paintings and film get at the uneasy question of whether gender equality in the workforce is actually any kind of equality in an oppressive (capitalistic) regime.
"In The Pink Detachment paintings, large feminine fingers push and prod, pressure and poke a multitude of magical-banal objects, as bobbed heads look on.
The imagery juxtaposes forms from industrial diagrams and tech manuals with mid-20th century cartoons and graphic design. There are nods to early-20th century Surrealist painting and Japanese woodblock prints, but reorganized for subtle goofiness. The combination of these forms are a way to picture economic concepts that are harder to visualize: gendered power and punishment, export/ import of Soft Power culture artifacts, the body politics of technology, and the proliferation of forms of Affective Labor. All these elements come together in a totalizing, yet effortless tableaux.
How do we we define power today? These paintings propose that power-made-visible can only be cartoonish: a bunch of disembodied fingers pushing things around. The wielding of power has become so intentionally invisible, every structure and gesture supports models of privilege and access, that locating it in a single image is absurd.
Or these paintings are a proposal for the future of power. If we are in the late stages of a push East and the female domination of industrial and service labor – maybe these are simply portraits of the world to come. Each paintings is a window to a world of pushy female fingers, the horizon awash in emotionally controlling hues." - Jen Liu
More info here.