Past exhibition
Quiet, Calm, Staring
Group
Online, 10 Apr - 26 Apr '20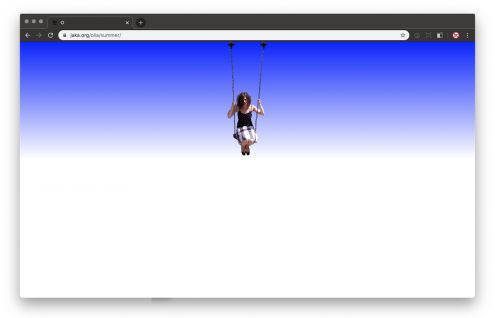 Past exhibition
Quiet, Calm, Staring
Group
Online, 10 Apr - 26 Apr '20
Upstream Gallery proudly presents its online platform upstream.gallery dedicated to host a new series of online exhibitions. These exhibitions will be developed, curated and participated by artists that belong to the top of the digital art world. The first exhibition is curated by Rafaël Rozendaal:
Quiet, Calm, Staring
Curator: Rafaël Rozendaal
10 - 26 April 2020
Participating artists:
Claude Closky, Constant Dullaart, JODI, Jan Robert Leegte, Olia Lialina, Guthrie Lonergan, Peter Luining, Jonas Lund, Michael Manning, Claudia Maté, Jonathan Puckey / Moniker, Evan Roth, Rafaël Rozendaal
"We have been online before the crisis and we'll be here after."
For the first exhibition on the new online platform upstream.gallery Rafaël Rozendaal made a selection of 13 works from artists who use websites as a medium. He chose to select websites that require no interaction, websites that are endpoints. No information, no links, they are destinations.

As the artist mentions;
"…Art is a place for reflection and contemplation. Quiet, calm, staring. Trying to observe without too many thoughts. We are used to viewing art that way, but the internet is a different place. The internet is fast paced, jumping from link to link, from impression to impression.

Websites are ubique (ubiquitous) objects, they can exist in many places simultaneously. It might sound obvious, and we take it for granted, but I think now more than ever we understand why websites are a very special place for artists to make work. Websites are different from any other medium... they use computational processes to generate living moving images. Browsing them has it's own rhythm, it's own flow of time, different from video, TV or cinema..."

As Rozendaal explains here, art on the internet challenges the traditional ways of looking at art. Like conceptual art did in the 1960s. Net Art can be seen as a contemporary avant-garde in more ways than one: it circumvents the traditional institutions of galleries and museums, being distributed across the world for everyone (with an internet connection) to see at the same time. In many cases, the work is interactive and asks for some kind of participation from the viewer. The work usually has no beginning nor an end. Internet art is rooted in disparate artistic traditions and movements, like Dada, conceptual art, Fluxus and performance art.

Net Art already exists since the mid 90s, but now is a great time to dive back into all the great works of art the internet has to offer. Upstream Gallery has been representing internet artists for years. For instance JODI, who pioneered Net Art in the 90s, or Rafaël Rozendaal, who attracts more than 60 million unique visitors a year with his online works.

The urgency of this type of art becomes apparent in these times. The more because traditional works of art that are shown online have the disadvantage that they are reduced to pictures on your screen and that the work actually only really comes into its own when you are standing before it. These times demand for something different and the art form that is undoubtedly best equipped for these conditions is Net Art, art made for the internet.

For this exhibition, no works have to be shipped. No one has to leave their house. And best of all: the works can be experienced in full glory. The only thing you will need is an internet connection. Sit back and enjoy.
Image: Olia Lialina, Summer, 2013. Courtesy of the artist.