Past exhibition
TÊTE DE MORT
Florian & Michael Quistrebert
Amsterdam, 19 Oct - 16 Nov '19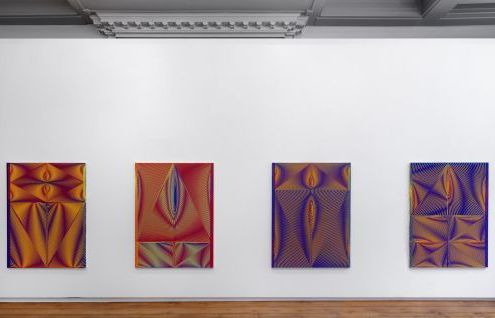 Past exhibition
TÊTE DE MORT
Florian & Michael Quistrebert
Amsterdam, 19 Oct - 16 Nov '19
opening 19 october 17.00 - 19.30h
Upstream Gallery proudly presents the first solo exhibition of Florian and Michael Quistrebert with the gallery. The brothers Quistrebert (born in 1982 and 1976 in France) live and work in The Hague (NL) and Nantes (FR). They combine video and painting and explore the effects of light and shade, while bringing forward ideas of fascination, manipulation of the gaze, and their relationship to hypnosis, ecstasy and trance states. Taking elements that naturally attract our eye – fluorescent colors, sparkles, shiny and iridescent surfaces, LED lights – the Quistrebert brothers temporarily engulf their audience with perceptions of alternative realities. In the presence of their works, art theories and materials become secondary, and one is compelled to approach and experience their works with a pure primal spirit.
In this exhibition, the Quistreberts present new paintings and video work that will center on the theme of death; a theme that has fascinated humanity since the beginning of time. The exhibition will deal with death as the path to the other side; and particularly focus on the visions in the interstice between life and death. Their new paintings are a continuation of the GOD series from 2013-2014, wherein tight line patterns overlap in multiple symmetrical layers, thus creating moiré radiations and revealing a vibrant spectral figure. However, with their new paintings they aim to evoke the bright heavenly light of death at the end of the tunnel, which is as irresistible as fatal.
Crossing the river of Styx to the underworld, the brothers Quistrebert also present images of earthly death. In their new video work, they use the classicist architecture of the Upstream Gallery to reproduce an animated ossuary in which secret occult meetings could take place. It is in this dark crypt-like interior that skulls and bones will perform a Danse Macabre. Moving rhythmically along the building structure – its columns, ornaments, doors and windows – the Quistreberts transform earlier video works from 2018 into a site-specific work. By beaming their video on a large architectural scale, the 'dance of death' becomes a harrowing spectacle from which we cannot escape.
Florian & Michael Quistrebert both graduated from the École Nationale Supérieure des Beaux-Arts, Nantes, and have been working together since 2007. They participated in several residencies including, Triangle Studio, NYC (2009), and the Rijksakademie, Amsterdam (2012-2013). Their work is present in numerous public and private collections. Recent solo exhibitions include the Centre de Creation Contemporaine in Tours, France (2019); The Light of the Light at Palais de Tokyo, Paris (2016); and Visions of Void at Dundee Contemporary Arts, UK (2015). Recent group shows include Close Up (2016) at EYE Filmmuseum, Amsterdam (2016); Un mural, des tableaux at Plateau/FRAC Île-de-France, Paris (2015); Superficial Hygiene at De Hallen, Haarlem (2014); De leur temps at Hangar à Bananes, Nantes; Le Club des Sous l'Eau at Palais de Tokyo, Paris; Dynamo: Un siècle de lumière et de mouvement dans l'art. 1913-2013 at Galeries Nationales du Grand-Palais, Paris; The End of the Night at LACE, Los Angeles (2013); and Les Mystères de l'Ouest at Centre Georges Pompidou / Musée National d'Art Moderne, Paris (2012). Florian & Michael Quistrebert were nominated for Prix Marcel Duchamp, Paris (2014) and won the NN Group Art Award at Art Rotterdam (2017) and World Masters of Projection Mapping Award at EYE Filmmuseum (2018).