Past exhibition
dull.life™- hack, hustle, historicize
Constant Dullaart
Amsterdam, 8 Jun - 13 Jul '19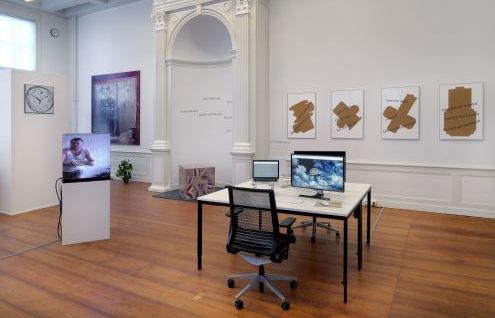 Past exhibition
dull.life™- hack, hustle, historicize
Constant Dullaart
Amsterdam, 8 Jun - 13 Jul '19
Grand opening
June 8th, 2019
5pm - 7.30pm
Environment initiation ceremony at 5.30pm
Now taking applications for desk leasing, dull.life™ offers spaces within its accelerating incubator environment in a strategic Amsterdam location. Hack, coffee, Legend. The mothership in a chain of establishing franchises is already adored and fabled for it's focus on the mean and lean of the creative strong game. A sentimental marriage of method, function and distribution, in an epic central period mansion. A quick 20 minutes from Schiphol, history's time is always now, with desk space available for growth and broadband intertextual exchange. Concentrated opulent dull, you own everything. This new creative incentive celebrates local creative industries, establishes direct empowerment for dramatic co-working spaces available as per June 8th. You just think it, have it made, spread it thin. Turn key relevance on the go. The true dull.life™ experience encourages the hustle, legend making and on brand focus. Find yourself supported by crafted identity echo's, predictive Pearl River imports, preemptive nostalgic chemtrails. Work hard, epic harder, in the temporary, yet pen ultimate dull environment. Next stop, legend.
DULL.LIFE™

dull.life™ is a newly developed co-working concept initiated by Constant Dullaart, which will have its premiere at Upstream Gallery. In his second solo exhibition with the gallery, Dullaart presents dull.life™ as a communal context for a multitude of artworks, companies, projects and incentives.
By transforming the monumental canal side gallery into a commercially viable co-working space and placing a selection of his recent artworks within this environment, works are framed in a setting of effi cient creativity. The economy around maximizing creative output creates an aggressive surrounding, commodifying the artworks within their own context. Separating itself from older relational aesthetics references, the artworks polemically, yet preemptively camoufl age themselves within a status of ornament.On the walls of dull.life™, the artworks appear as decorative commercial products, but are also artworks that examine and critique the working conditions of the co-working space.
Dullaart recreates a surrounding in which labor ethics and identity within a post-truth, postcolonial and post-social economy are questioned. His works often take position within a debate around the implications of corporate or infrastructural media design. Dullaart creates a context for his work in which the fetishizing effect of the co-working space is obstructed. Instead of becoming an ornament of the creative economy, he turns the co-working space into an ornament of his artistic practice. While controlling the context as brand related setting for earlier incentives like DullTech™, DullCloud, DullBrown, DullDawn, DullSocial, and DullDream, dull.life™ will show Dullaart's position developing metonymic narratives, within a context rich distribution stack: from his recently revived DVD guy meme, to using social media armies to recite his poems.