Past exhibition
Particles of Dust
Frank Ammerlaan
Amsterdam, 20 May - 8 Jul '17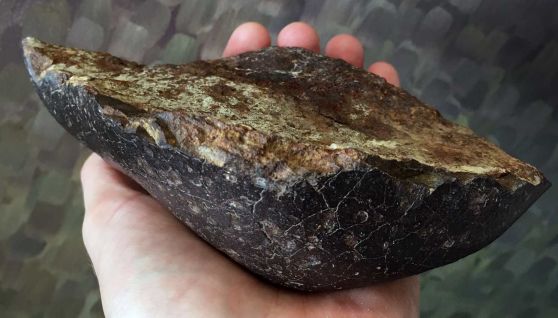 Past exhibition
Particles of Dust
Frank Ammerlaan
Amsterdam, 20 May - 8 Jul '17
"Since everything that is matter can, under favourable circumstances, convert to an organic state, then we can conditionally say that inorganic matter is in embryo living." - Konstantin Tsiolkovsky, 19th century Soviet godfather of rocketry.
Upstream Gallery presents Particles of Dust, a solo exhibition of new work by Frank Ammerlaan. A paradigm shift took place in the most recent works by Frank Ammerlaan. Instead of just observing our own planet, Ammerlaan has changed his perspective from horizontal to vertical. Perception has always been important to Ammerlaan: he turned his attention outside the very center of the gaze. By focusing his view upward, he now explores a new kind of peripheral vision.
In his newest paintings he makes use of unconventional materials and techniques ranging from dirt and dust, (liquid) metals and meteorite particles. Subsequently you find complex machine embroidery and 'patchworks' of diverse canvasses and fabrics that have been exposed to the elements outdoors. Tiny particles of dust have gathered on the canvas: the resulting stains are rudimentary, indexical recordings of the natural cycles of the environment.
With pulverised metals and meteorites the artist creates powderlike and complex geometric patterns. The cosmic material dates from the early times of our solar system: it is by far the oldest material to be found on earth. Scientists consider it as the vital source of the organic compounds that gave rise to life on earth.
Although the new work is formally different from the paintings with which Ammerlaan made his breakthrough, they are essentially a continuation of Ammerlaan's 'alchemical' research into perception, into the boundaries of painting and unpredictable processes.
Frank Ammerlaan (1979) is based in London. He studied at the Gerrit Rietveld Academy, Amsterdam and the Royal College of Art, London, and was awarded among other things the Gerrit Rietveld Academy Painting Prize, the Koninklijke Prijs voor de Vrije Schilderkunst, Land Securities Studio Award, Royal College of Art and the Scheffer Award. Ammerlaan's work is frequently exhibited in galleries and museums in the Netherlands and abroad and is part of the collections of Gemeentemuseum Den Haag, Museum Voorlinden, Dordrechts Museum and Stedelijk Museum Schiedam. Particles of Dust is Ammerlaan's third solo exhibition at Upstream Gallery.