Past exhibition
Shifting Optics IV
Various artists
Amsterdam, 25 Mar - 7 May '17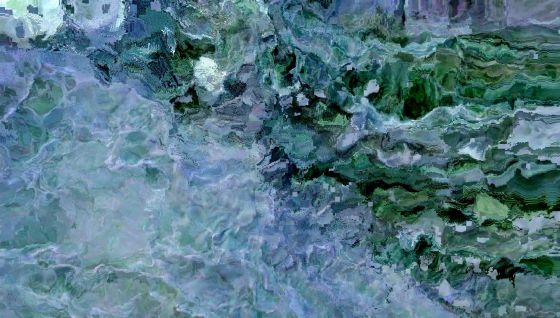 Past exhibition
Shifting Optics IV
Various artists
Amsterdam, 25 Mar - 7 May '17
Opening: Saturday 25 March 2017, 17.00 - 19.30 hrs
Upstream Gallery proudly presents Shifting Optics IV, the newest edition in the series of group exhibitions in which the impact of digital culture on the visual arts is shown. Initiated in 2014 as a signalling exhibition introducing a new generation of artists, Shifting Optics soon evolved into an extensive research into the rapidly evolving field of digital art, with sequential exhibitions in 2015 and 2016. Simultaneously, the urgency of digital art is more and more recognised by international institutions, as reflected in recent and current exhibitions such as Electronic Superhighway at Whitechapel Gallery, Human/ Digital: A Symbiotic Love Affair at Kunsthal Rotterdam and Sleep Mode. The Art of the Screensaver at Het Nieuwe Instituut, as well as in the recent joint acquisition of 17 works by contemporary digital artists by MOTI Breda and Stedelijk Museum Amsterdam.
Harm van den Dorpel
Harm van den Dorpel (NL, 1981) studied artificial intelligence before attending art school. His background as a computer programmer is also reflected in his work, in which algorithms and information systems play a major role. During Shifting Optics IV, he presents three 'specimen', born from his ongoing Death Imitates Language project. The works on display are developed with the help of artificial intelligence software designed by the artist, that allows him to 'breed' two-dimensional images. As Van den Dorpel explains: 'Technically (or biologically), all propereties of a drawing (angles, smoothness, shape, color, transparency, scale, position, etc.) are stored in a long string of 0s and 1s: a digital chromosome. These chromosomes hermetically define the appearance of each work (or specimen), just like how the genotype of human beings is defined by their DNA.' By pairing two images, their chromosomes align and offspring is created that shares characteristics of its ancestors. The decisions as to which works are selected to breed with each other, which works can remain in the population, and which will be 'frozen' and manufactured, are taken by the artist in the form of micro-feedback he gives to the system. The three unique specimen included in the exhibition are accompanied by the Autobreeder software that autosurfs the massive genealogy of the Death Imitates Language project, containing over 12.000 specimen.
Funda Gül Özcan
Funda Gül Özcan (DE, 1984) is currently a resident artist at the Rijksakademie van beeldende kunsten in Amsterdam. With her sculptures and video installations, Özcan tracks down the literary structure and linguistic precision of a poem, transferring its projective nature visually into the space. The resulting multimedia installations and dioramas connect sound, writing, sculptures and video, in which the video becomes three-dimensional through a system of reflections. Her visual poems display a huge number of images and while the material is randomly layered, it is all directly interrelated. The stanzas of her poem can be read as a complete whole. A multitude of forms triggers the viewer to imagine the connections in this sculptural storyboard but also to experience them synchronically. With her work, Özcan conveys a new uncompromising visual language.
Jacques Perconte
Jacques Perconte (FR, 1974) is well known as one of the pioneers of French Internet art. In his work, he concentrates on the landscape, utilizing a variety of forms including linear and generative film, audiovisual performance, photography and installation. L'écume du phare shows the break of waves at the cost of Fécamp in Normandy, seen from the jetty that separates the beach from the entrance to the harbour. The generative film that is infinitely reinvented shows a technical research to go on with producing images beyond what video compression can show in the intimacy of shapes and at the heart of its smallest visible structures. Through reverse engineering and expert manipulation of the encoding and storage technologies of digital video, Perconte crafts magical landscapes as colourful fairy tales. The images fall apart in toxic colors, melting, flowing and swirling hypnotically on the screen.
Evan Roth
Evan Roth (US, 1978) lives and works in Paris. He creates prints, sculptures, videos and websites, with which he explores the relationship between misuse and empowerment and the effect that philosophies from hacker communities can have when applied to digital and non-digital systems. By using various technologies counterintuitively to their original design, he seeks to visualise and archive networked culture. The work Dances for Mobile Phones: Paraguay researches gestural movements that are unique to the 21st century. Shot with a full spectrum infrared and ultraviolet camera built by the Cleveland Paranormal Society to document disembodied human energy, the digital interface is obscured and the new and unnatural movements we have adopted to access the Internet become visible. At the same time, the only illumination visible from the phones is an infrared beam that is primarily used for facial recognition and ordinarily invisible. The radiance is not controlled by the user, but by the device, and displayed together the work prompts the question of who or what is controlling our gestures as well.
Siebren Versteeg
Within his practice, Siebren Versteeg (US, 1971) critically engages the systems used for disseminating images in our culture, as well as the technology used to create them. The internet-connected installation Fake News shows a new collaged painting every minute, made with images sourced from news sites such as CNN and completed with algorithmically generated brushstrokes and compositional gestures. They are featured in situ, in a rendered gallery space that also changes every minute. The documented paintings only exist in this digital form and never as a physical artwork. With the recent rise and pervasiveness of fake news, the urgency to question what is real has become ever so important. At once a commentary on the influence of fake news on recent political developments, the work also hints at the politics of the art world, in which installation images are circulated more often than shows are attended.
Damon Zucconi
Damon Zucconi (US, 1985) is currently artist in residence at the Van Eyck Academie in Maastricht. He frequently uses custom software and scripts to create his works and has been engaged with the practice of computer programming since 2010, producing works which are typically accessible online. His works utilize vision, literacy and pattern recognition to make plain our perceptual experience. Boring Average Interesting shows how a flattening of the relative speeds of objects moving around a rotational axis creates a torqueing action in concert with the eye's movement, reading from left to right. Within his practice, he has made multiple works that deal with the different defaults that ambient information takes. Information that you don't have to devote your full attention to, but instead you drift in and out of, resulting in a compelling mixture of boredom and compulsion that has become a characteristic feeling of our current time. Floating-Point year was created by Zucconi a short time prior to the past turn of the year in search of ways to reframe his personal sense of time. The work computes the year as a floating-point value – a way for computers to represent decimal values, to compensate for the lack of decimals in a binary system. The floating point is updated 60 times per second, truncated to the 18th significant digit. Foating-Point year represents a way to look at the datetime as a single value, instead of a single point moving along a line.