Past exhibition
Isometric Landscapes
Raymond Barion
Amsterdam, 21 May - 16 Jul '16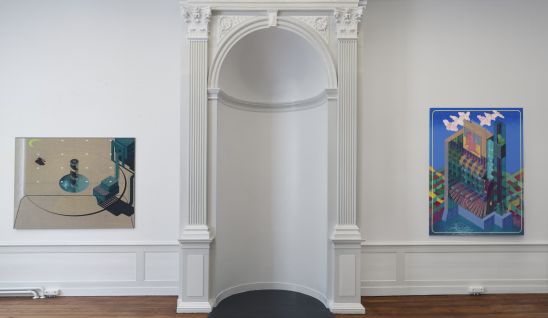 Past exhibition
Isometric Landscapes
Raymond Barion
Amsterdam, 21 May - 16 Jul '16
Creating art your whole life and only getting recognition when you have reached retirement age. It happened to Raymond Barion (1947), a Dutch artist who has lived in Antwerp for years. Upstream Gallery now presents Isometric Landscapes, his very first gallery exhibition.
Why the art world just now seems to be ready for Raymond Barion's work
Barion combined the Royal Academy of Fine Arts in Antwerp with studying art history at the University of Ghent. The combination of theory and practice is a central theme in Barion's practice. From 1975 until his retirement in 2010, Barion taught two-and-a-half days and spent the rest of his time making his own paintings: large canvasses, characterised by the use of an isometric perspective and an almost mechanical touch, influenced by drawing techniques used in architecture. At the time, his work was mostly picked up in those circles. Nowadays, the world of contemporary art has broadened its horizon and looks at Barion's paintings with a newfound interest, considering his works from an interdisciplinary perspective.
During the 1980s, Barion spent some time in New York. He became fascinated by the way in which Manhattan, with its shiny facades, seemed to slowly transform into a huge theme park. In New York, Barion discovered the airbrush technique and made the change from sculptures to paintings. However, the interest in volumes and architectural significance remained prominent in his works. Moreover, his works show a thoroughly researched interest in mythology, literature, philosophy and art history. Barion is a well-read man; his works are influenced by the ideas of writers such as Franz Kafka, but also by philosophers, such as Nietzsche, Schopenhauer, and Deleuze.
Barion was ahead of time; technifying the way of watching has become commonplace. Thanks to gaming, we have familiarised ourselves with the isometric perspective; the ubiquity of cameras has mechanised our view forever. Changes in geopolitical reality have also enabled people to look at Barion's work with a newfound interest. "We are living in a permanent transitional phase. Boundaries are blurred: there is no peace, but there is no war either; everything happens simultaneously. Moreover, the show society has become completely fragmentised." The impenetrability of Barion's reflecting constructions evoke associations with Fortress Europe and the refugee crisis.
Not an outsider
"An outsider," is how Barion describes his own position within the art world. However, although his work has never ended up in a museum, he cannot be described as an outsider. Barion was a forerunner in the implementation of the critical-theoretical discourse within art education. As a professor at St. Joost, he often invited artists, such as Panamarenko and John Körmerling, to exchange views. His meetings with artists from the then divided German speaking regions were also significant; he met with, among others, Jörg Immendorff, A.R. Penck, Arnulf Rainer, and Hermann Nitsch.
Because Barion felt the need for theoretical information during his studies, he decided to study art history in Ghent. "Philosophy, aesthetics, literature: this really gave me a thrill." It also provided a wealth of reference points. "Art is made from art. It can never arise from nothing." Barion's works are full of references to, among others, Francis Bacon, Georges Seurat (the pointillist who, according to Barion, works "like a colour printer avant la letter"), the Russian Constructivists, Giorgio de Chirico, Karl Friedrich Schinkel, and Arnold Böcklin. These references, together with philosophical and literary influences ("My work often originates from literature."), culminate in meaningful works of art that are deeply dystopian, but, because of the visual language and use of colour, as seductive as a shiny shop window.
The advantages of a late break through
It should be understood; the fact that there is only a recent serious interest in Barion is unjustified. Even so, there is not a trace of discontent to be found in the attitude of the artist. "I was very lucky; I was always able to do what I found interesting. I am happy to have never felt the pressure of commercialism, because that is not always good for the production of an artist. I am in a fortunate position; whether I sell my work or not, it does not really matter. A career has never interested me in that sense."
Barion's artistic attitude can easily be called unique. It fits an artist that has worked on his oeuvre in complete autonomy: focused, taking his time (some canvasses take him a year to complete), and not depending on the agendas of art critics, curators, and gallery owners. Thanks to Barion's small outlet, his production stayed low. And due to limited storage space, only his best works remain. These works were only seen by a very select group of people, now it is time to change that.
REVIEWS IN THE DUTCH PRESS ON ISOMETRIC LANDSCAPES:
What a discovery this is! As if a long closed treasury has opened. [...] That the work is discovered is cause for excitement. Now that it is torn from the anonimity of the artist's studio, it deserves recognition and a place in contemporary art history."
*****- Review of Isometric Landscapes by Edo Dijksterhuis, art critic for Dutch newspaper 'Het Parool' (27 May 2016)

"Barion's work is full of references to painting (Bacon, De Chirico), to American pop culture and architecture. [...] it remains enigmatic, almost bewildering."
●●●●○ - Review of Isometric Landscapes by Tracy Metz, art critic for Dutch newspaper 'NRC Handelsblad' (27 May 2016)

"Strange place, the vanguard. It consists of highly idiosyncratic people celebrating the highly idiosyncratic, but when someone comes along that truly stands alone, who has a truly personal vision, technique, perception and iconography, he is often pushed towards the box of outsider art, or, even more often (and more annoying): ignored. Which can easily be caused by external factors. That the appropriate words, the right story to make the image explainable and thus salable, were not available at the time of completion. How else can we declare that the brilliant, ambitious and quirky paintings by Raymond Barion have only now been brought together in a solo (at Upstream, Amsterdam)?"
Review of Isometric Landscapes by Jeanne Prisser, art critic for Dutch newspaper 'De Volkskrant' (3 June 2016)


Upstream Gallery likes to thank Domeniek Ruyters for his great interview with Raymond Barion, published in Metropolis M (Issue No 1, 2016) which all led to this amazing exhibition.
"The strange landscapes with their distinctive architecture, often in the form of arenas and theaters, impress because of their peculiar atmosphere, the wealth of detail and the coherent theme. It is a completely artificial world, almost dehumanized, where even the clouds seem unreal. And yet everything feels close and familiar, as a reflection of the world outside, that now, barely thirty years later, has anxiously come to resemble."
- Domeniek Ruyters, Dutch art magazine 'Metropolis M' (Issue No1, 2016)
Images: overview photos Raymond Barion, Isomatric Landscapes. Photos Gert Jan van Rooij.