Past exhibition
Rehearsing the Future
Noor Nuyten
Amsterdam, 26 Mar - 7 May '16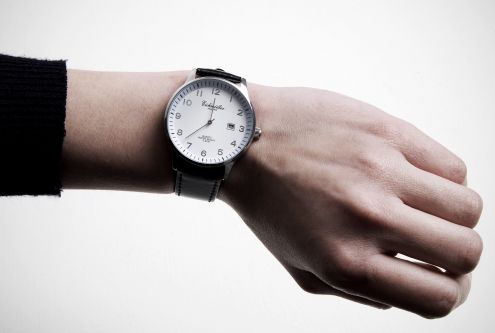 Past exhibition
Rehearsing the Future
Noor Nuyten
Amsterdam, 26 Mar - 7 May '16
Opening: 26 March, 17.00 - 19.30
Upstream Gallery proudly presents the second solo exhibition by Noor Nuyten: Rehearsing the Future. With this exhibition, Nuyten (NL, 1986) provides new ways to engage in a critical but humorous relationship with rationally structured systems such as time, language and units of measurement. Starting from a conceptual basis, she seeks to create different scenarios that constantly question the influence of and interaction with such systems in our daily lives.
The title of the exhibition refers to the eponymous work in which Nuyten researches the increasing extent to which language takes shape in the digital environment by using the Oculus Rift; a set of VR-glasses with a wide stereoscopic view, developed especially for gamers. Visitors are guided through a virtual space by means of moving textual instructions that constantly change direction and format. The slightly absurdist text reads about social structures and its prescribed scenarios, while creating a rhythmic choreographic spectacle for viewers standing outside the virtual space. By this, the work also brings together Nuytens research on social and linguistic systems, of which she explores the impact on our actions through physical, virtual and imaginary modifications to everyday objects. With Tonight's Schedule, Nuyten again calls upon the visitor, whom she includes in a new notion of time upon entering the gallery. Where one normally wears a watch, one now receives a stamp with the time of entry. Visitors then become part of an alternative perception of time: together they form a collective clock, where time stands still on their wrists, but goes on upon encountering other visitors.
Nuyten's multimedia works are characterized by close collaborations with craftsmen, scientists and writers. Without any form of hierarchy, she brings together different occupations that use different ways of thinking. For Future is Behind, Nuyten also worked in co-operation. After a thorough examination of cultures with a different perception of time, she developed shoes with a sole that is placed backwards in close collaboration with master shoemaker Nils Kalf. Some cultures have an experience of time that is opposite to ours: the past is in front of us and the future is behind. This is reflected for example in body language with gestures backward when talking about tomorrow. The exhibition includes three versions of this work: one is based on the iconic New Balance 547, another on Michael Jackson's Moonwalk loafers and a third on the classic lace-up shoe. Upon request, visitors can fit the shoes to venture on an alternative physical experience of the Western regime of time.
For the auditory work Exhibition in Your Hand, Nuyten invited several artists. For the current exhibition, she invited physical geographer Maarten Kleinhans to show an ultimate form of rehearsing the future; the result is a sandbox derived from Kleinhans' Metronome, a unique invention to mimic estuaries to scale. Exhibition in Your Hand examines how a work of art can exist solely in language, and thus in the mind of the visitor.
Nuyten's exhibition at Upstream Gallery emphasizes the ephemeral experience of the works that is characteristic of her oeuvre. By playing with form, concept and structure, she explores new ways to put our relationship with rationally structured systems to the test. Rehearsing the Future not only provides a critical perspective, but also primarily an encouragement to create scenarios about the future.
Noor Nuyten lives and works in Amsterdam. She studied at the HISK in Gent (BE) and at the Academie Minerva (Groningen). In 2013 she had her first solo exhibition at Upstream Gallery: The Palm at the End of the Mind. Her second solo exhibition took place in the spring of 2016: Rehearsing the Future. Nuyten's works are regularly included in exhibitions in the Netherlands and abroad. In the summer of 2013 she did a residency in GlogauAIR, Berlin and in 2015 she took part in a guest residency at the Rijksakademie in Amsterdam.
Images:
Let's Meet at 3 o'clock, 2013.
Future is Behind, 2015. Photo: Marian Cousijn.