Past exhibition
Teatro La Tregua, Arab Spring, Veterans' Flame and other stories
Ronald Ophuis & Krzysztof Wodiczko
Amsterdam, 27 Nov '15 - 16 Jan '16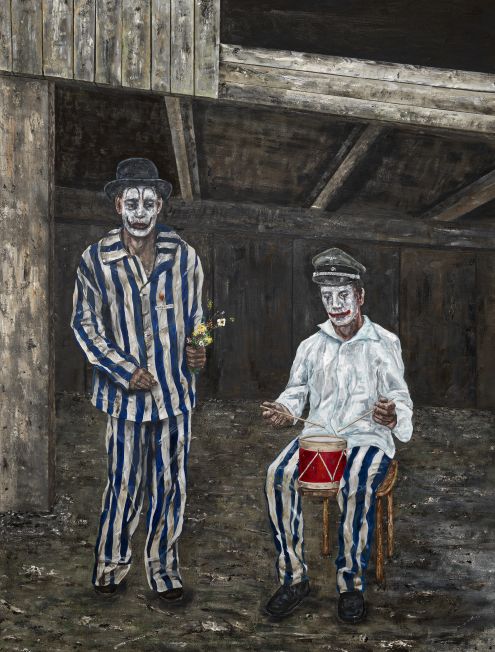 Past exhibition
Teatro La Tregua, Arab Spring, Veterans' Flame and other stories
Ronald Ophuis & Krzysztof Wodiczko
Amsterdam, 27 Nov '15 - 16 Jan '16
Upstream Gallery proudly presents Teatro la Tregua, Arab Spring, Veterans' Flame and other stories, an exhibition by Ronald Ophuis and Krzysztof Wodiczko. The exhibition is composed of several narrative threads from Ophuis' most recent work, from the survivors of concentration camps of World War II and the perpetrators and victims of the civil war in Congo to the more recent conflicts in the Middle East. In addition, Ronald Ophuis invited Polish artist Krzysztof Wodiczko for an ongoing screening of his video work Flame.
There is always a tension between attraction and repulsion in Ophuis' work: the paintings contain a beauty but cause a shudder at the same time. With his distinctive paint treatment and meticulous compositions, Ophuis strategically makes use of that which the aesthetic of oil painting offers him. But the subjects he choses are usually confrontational, expecting the viewer to take a stand on what is depicted. With the power of painting, Ophuis challenges the viewer to relate to the content of the work.
Within his paintings, Ophuis depicts the behaviour of man under extreme circumstances, for which he allows to be inspired by texts written by historians, journalists, writers, poets and his own imagination. He archives images related to a specific theme in the media and views documentaries and films that are related to the investigated subject. If possible, Ophuis visits the places where conflicts have occurred and collects the stories of the people involved through interviews. There he also photographs locations where the events could have unfolded. The scenes that are ultimately portrayed are constructed by the artist himself, in contrast to the images that we see through the lens of the war photographer. An important difference, causing that the work was not always received without controversy. It immediately raises the question of why the artist chose this image, as opposed to the war photographer who only registered the crime.
Ophuis does not take a moral stand regarding the images he portrays, nor does he shy away from the emotions aroused by his work. On the contrary, he is out to reload the stories with emotions and thoughts and tries to convert the spectator into an agitated witness, as the desire to judge and consider can only occur after becoming emotionally involved. Is there a place for these images in our memory? Do they reflect our shared culture? Are they allowed to be part of our common recollection? Does it do right on the historical events and does it show mankind as it is? Historical events often tend to lose their deep emotional impact with the passing of time, strongly challenging our empathy and creating an emotional void towards these stories. Precisely by leaving the wound exposed, Ophuis attempts to redeem his guilt about the resulting void.
Teatro la Tregua
For his newest series of paintings, Ophuis was inspired by the autobiographical book La Tregua (The Truce) by the Italian writer Primo Levi (1919-1987). In his book, Levi describes how he as survivor of Auschwitz made a bizarre journey of six months, dragged back and forth by his Russian liberators through a distraught Eastern Europe, before being able to return to his old hometown in Italy. Among the millions of displaced, Levi travelled together with a group of old concentration camp inmates, who occasionally organized recitals for each other. Ophuis took this example of the resilience of the human spirit dealing with traumatic situations as a starting point for a new body of work. In his paintings he brings to life an evening of performances in which clowns, intermediaries of adaptation and tragedy, are given the leading role.
Arab Spring
The wave of uprisings, protests and revolutions that went through the Arab world in recent years, formed a direct cause for another series of new work by Ophuis. The monumental canvas Arab Spring. On their way to the Revolution. Syria 2011 reads like a contemporary version of the famous Liberty Leading the People (1830) by French painter Eugène Delacroix. The woman, almost stripped to the waist as an allegorical representation of Liberty (in which nudity is seen as a sign of vulnerability and courage), has given way to an undaunted street sexuality in Ophuis' work. Here, two boys with bare torsos lead the way to revolution, followed by an older woman wearing a headscarf and man dressed in djellaba holding machine guns in their hands. Together they share the euphoric desire to make change to the regime and governance of their country, but immediately the work raises the question of their motives towards a revolution and the positions they will take later on.
Veterans' Flame
In Krzysztof Wodiczko's Flame, the image of a candle flame moves on the recording of a devastating US gunship helicopter attack on Afghan "convoy", that later proved to be a group of civilian trucks. By appropriating public buildings and monuments as surfaces for projections in his work, Wodiczko has focused on the ways in which architecture reflects collective memory, history and the loss of life. By filling the small exhibition room at Upstream Gallery with the voices of soldiers, the 17th century city palace located on the historical Kloveniersburgwal becomes a place to contemplate contemporary accounts of war and longing.
Ronald Ophuis (1968) lives and works in Amsterdam. He studied at the Aki Academy of Fine Arts in Enschede and the Gerrit Rietveld Academy in Amsterdam. He won various awards including the Jeanne Oosting Prijs (2004), the Charlotte Köhler Prijs (1998) and the Kunstprijs Provincie Overijssel (1997). He had solo exhibitions in the Stedelijk Museum Bureau Amsterdam, Jan Cunen Museum Oss and in a variety of international galleries. His work was also shown in a large variety of group exhibitions in The Netherlands and abroad, including the Stedelijk Museum Amsterdam, Museum Arnhem, Museum De Paviljoens Almere, Fondation Francès Senlis, Gemeentemuseum Den Haag, Kunstraum Innsbruck, Kunsthal Rotterdam and Stedelijk Museum Zwolle. His work is included in leading collections of private, corporate and museum collections such as the Stedelijk Museum Amsterdam, Gemeentemuseum Den Haag, Centraal Museum Utrecht and Museum De Fundatie Zwolle.
Krzysztof Wodiczko (1943) lives and works in New York, NY and Cambridge, MA. He studied at the Academy of Fine Arts in Warsaw and is internationally renowned for his video projections on architectural facades and monuments. He has realized over 80 public projections in countries including Australia, Canada, Germany, England, Italy, Mexicy, Poland and the United States of America. He is professor at the Harvard Graduate School of Design and was former professor and director of the Interrogative Design Group as part of the Massachusetts Institute of Technology. His work is represented by Galerie Lelong in New York and is part of museum collections such as the Art Gallery of Ontario Toronto, Chase Manhattan Bank New York, Israel Museum, Jewish Museum New York, Miami Art Museum, Fonds National d'Art et de Culture Paris, National Museum of Modern Art Kyoto, New Museum of Contemporary Art New York and the Queensland Art Gallery Brisbane.
Images:
Ronald Ophuis, Teatro La Tregua (Two Clowns), Poland July 1945, 2015
Oil on canvas, 270 x 205 cm. Photo: Gert Jan van Rooij.
Ronald Ophuis, Teatro La Tregua, 2015
Oil on canvas, 175 x 260 cm. Photo: Gert Jan van Rooij.