Past exhibition
Inner Landscapes of Time
Various artists
Amsterdam, 13 Jun - 18 Jul '15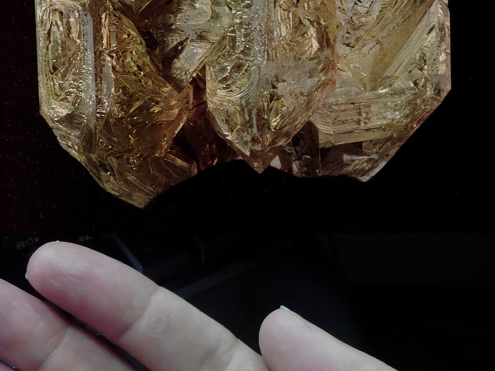 Past exhibition
Inner Landscapes of Time
Various artists
Amsterdam, 13 Jun - 18 Jul '15
Artists: Salvatore Arancio, Michael Fullerton, Georgie Grace, Fabienne Hess, Lloyd Corporation, Kentaro Yamada.
Curated by Frank Ammerlaan, Elsa Coustou and Ned McConnell


"a series of bizarre images of the inner landscapes of time."
- La Jetée: Academy One by J.G. Ballard

Inner Landscapes of Time is a group exhibition that brings together new and existing works by artists based in the UK. Through a particular focus on time and imagination the works in the exhibition remediate found material and imagery, creating new narratives that slip between temporalities.

The works in the exhibition address this through a process of collapsing or stretching time to reframe old and new narratives, re-appropriating collected data, individual stories and collective memories. Reflecting on the construction of reality, through ways in which information is circulated and disseminated, the works expose the intricate layers of temporality behind natural and found material.

The exhibition takes its title from J.G. Ballard's quote on Chris Marker's famous film La Jetée (1962) and has been convened in response to the continued construction of an imagined future.


Salvatore Arancio's practice, encompassing ceramic and sculpture, photo-etching, collage, video and animation, re-appropriates found images, taking inspiration in 19th century books, geologists' drawings, natural history museums collections, botanical gardens, documentaries and Internet found footage. Reframing these images, Arancio revisits traditional techniques, combined with new technologies, constructing new narratives and creating organic, grotesque, fantastical shapes, or dreamy landscapes in which sense of scale has vanished.

Born in Italy. Lives and works in London.


Michael Fullerton's prints, sculptures, and 18th century-inspired oil paintings unravel the powers at stake in the circulation and transmission of information. Addressing the role played by (mis)information within systems of power, and their failures, Fullerton draws his controversial characters from mass media: famous journalists and radio broadcasters, spies and human intelligence gatherers, wrongfully convicted prisoners, figures of political scandals, icons of the media and the Internet… The stories behind these individuals illustrate ideological beliefs, collective rumours, and the failures of regulative systems.

Born in Scotland, UK. Lives and works in Glasgow.



Georgie Grace's video works address the idea of the conscious mind and the act of speech. She collages silent text on screen cut together with a variety of textured imagery taken from 1960s architecture publications, pop cultural scientific references, mineral elements or landscapes of space. By pulling fragments of text from overheard conversations, presentations or lectures, she inscribes within her videos a paranoia about the unknown future.

Born in the UK. Lives and works in Cambridge.


Fabienne Hess works with the discarded materials of society: images digitally recovered from trash folders, the terms and conditions of large companies, text taken from spam emails. This personal and social archaeology addresses issues of waste and consumption, the structures of everyday life that are ignored but whose hand guides our lives, and the unconscious sublimation of the imagination.

Born in Switzerland. Lives and works in London.


Lloyd Corporation's collage, installation, performance and assemblage practice flows from found material and the arrangement of this material in culture. Addressing the structures of display in a variety of consumer contexts, they redistribute images focussing on the interplay between the personal and amateur aesthetics and design within classified advertising. By re-appropriating the media, they reinstate a sense of personal ownership over the imaginary.

Ali Eisa, born in the UK & Sebastian Lloyd Rees, born in Norway. Live and work in London.


Kentaro Yamada looks at the world in terms of temporality; he is interested in the slippage of these temporal states in the universe, in particular in relation to human beings. His choice of materials often balances between the archaic mineral or vegetal and the industrial, questioning the relationship of humans, in their infinitesimal time on earth, with their natural environment.

Born in Japan. Lives and works in London.
Images: Georgie Grace, every day the urge grows stronger, video still, 2014. Courtesy the artist.
Installation overview with Kentaro Yamada and Fabienne Hess.
Installation overview with Michael Fullerton, Fabienne Hess and Salvatore Arancio.
You can find more photos of the exhibition in our Facebook album.