Past exhibition
Hit Me Baby One More Time (High Performance Diet of Nothing)
Pepo Salazar
Amsterdam, 2 May - 6 Jun '15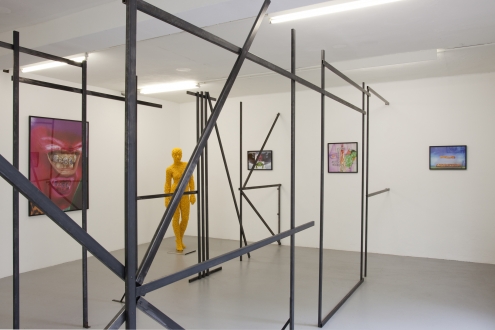 Past exhibition
Hit Me Baby One More Time (High Performance Diet of Nothing)
Pepo Salazar
Amsterdam, 2 May - 6 Jun '15
Pepo Salazar (Vitoria-Gasteiz, Basque Country, 1972) is one of the most well known names of the Spanish contemporary art world. Together with two other artists, Salazar is selected by curator Martí Manen to represent Spain in the exhibition 'Los Sujetos' in the Spanish Pavilion at the 56th Venice Biennale. Coinciding with this prestigious exhibition Upstream Gallery presents Salazars' solo-exhibition 'Hit Me Baby One More Time (High Performance Diet of Nothing)'.
Pepo Salazar
Salazar's work is characterized by an experimental, rebellious attitude and is not easy to categorize. His oeuvre includes a variety of media; including installations, assemblages, sound works, collages and performance. It is not the form but rather the attitude that defines his style: a radical directness lies at its core.
Clearly recognizable in Salazar's work is the influence of punk. This manifests itself not only in the appropriation of elements from the music and the iconoclastic imagery of punk culture, but also in an artistic investigation into the typical anti-establishment attitude and the fact that punk has become a fashionable part of the very establishment it once criticized.
Salazar also looks closely at the ideas and attitudes of historical avant-gardes such as Dada and Situationism. He positions himself within the artistic tradition of the experimental approaches and critical sentiment towards society that characterized these avant-gardes. At the same time, Salazar points out the parallels between avant-garde and punk: even those artists who once were radical, rebellious and revolutionary are now part of the art historical establishment.

Hit Me Baby One More Time (High Performance Diet of Nothing)
In 'Hit Me Baby One More Time (High Performance Diet of Nothing)', Salazar shows a series of new works in which he critically reflects on the extremely high standards that are imposed on contemporary society through mass media and consumer culture. Advertising constantly encourages us towards the pursuit of a superficial and fleeting kind of happiness, suppressing the political potential of individuals.
Salazar deliberately uses objects from the cheap and fast throwaway-culture when creating his assemblages. The use of these disposable objects gives his work a direct, raw and unpolished character. An example is the work Yoga Alliance. (2015), which exists of a mannequin covered in Cheetos. For Salazar, this iconic food acts as a surrealistic symbol for the present times. Everything about it is completely artificial and designed: from the shape, the taste and the color to the way it is marketed.
A new series of collages is characterized by the same unpolished anti-aesthetic. Collage has a tradition within both the avant-gardes and punk culture, but Salazar translates this technique to the present. He finds his source material on the Internet, where he selects easily available images, often in low resolution to emphasize their superficial and exchangeable character.
With the sound piece This. Center. (2015), Salazar uses a similar strategy to encourage us to reconsider the concept of value. The sound of buzzing flies itself is not special. Indeed; it is so common and ordinary that listening to it would equate the waste of precious time, which according to Salazar can be considered a political act: "As time is perhaps the most appreciated thing in our high performance realm, wasting time could be an example of being political".
Lastly, a study on systems of language, inspired by contemporary philosophy, is often present in Salazar's work. This research results in an intelligent play with words and their meaning. This notion can be found in the installation Diet of Nothing (2015), which consists of a fence that is spatially positioned in an architectural manner, thus forcing the visitor to relate actively to the work. The fence is made of words that are extremely difficult to decipher. The letters are reminiscent of runic script, but the typography is actually inspired by punk bands that traditionally used pieces of tape to write their band name on walls.

Pepo Salazar is based in Paris and has been working with Upstream Gallery since 2005. His work is exhibited in solo and group exhibitions at venues such as ARTIUM (Spain), Palais de Tokyo (Paris), Künstlerhaus Bethanien (Berlin), Art in General (New York), TRAFO Museum (Singapore), Funcación Tàpies (Barcelona), the Venice Biennale (50th and 56th edition) and the Guggenheim (Bilbao). His work is part of collections such as ARTIUM, Basque Centre-Museum of Contemporary Art.